Houston Reports First Decline in TEU Imports as Record Year Closes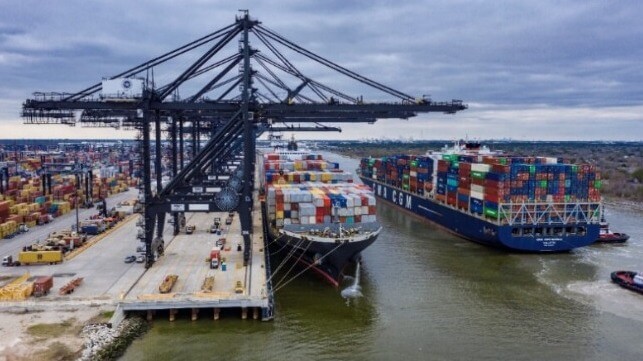 After two years of dramatic gains, Port Houston as expected experienced its first decline in container import volumes. The port had been able to maintain the TEU increases longer than other ports, especially compared to the U.S. West Coast, and for the full year still reported impressive gains. Port executives had warned in November that their vessel queue was declining and that they expect a leveling off in volumes.
In a pattern similar to the second half of 2022 at West Coast ports, Houston experienced its first overall volume decline in December 2022, led by a drop in imports. A total of 292,027 TEUs were handled at Port Houston during December, which was a 12 percent overall decline compared to December 2021. Loaded container imports led the decrease, falling 16 percent year-over-year.
While overall volumes were on the decline led by imports, Houston however still had its best December ever for exports. Export volume was up seven percent capping off an exceptionally strong year for the port.
Houston recorded its best year yet in 2022, with an overall 14 percent increase in container movements to just shy of four million TEUs (3,974,901 TEUs). Port executives highlighted that these volumes were nearly double the volume posted six years earlier in 2016, and 492,526 TEUs more than in 2021. Total tonnage was up 22 percent for the year, reaching 55,060,963 short tons, another new record for Houston.
"The volumes we've experienced this year at Port Houston have been incredible," said Roger Guenther, Executive Director at Port Houston. "The record growth seen over the last couple of years has been supported by continued investments in Port Houston terminals as well as the immense dedication of the Port Houston staff and ILA labor. As we head into 2023, we will continue to stay in front of the curve to provide exceptional service."
In addition to the strong container volumes last year, Houston's steel imports were up nearly 50 percent in 2022 with large increases for line pipe, standard pipe, oil country goods, heavy structural shapes, and wire rods. While down 29 percent for December, auto import units however also ended the year up seven percent. Bagged goods imports were also up 50 percent as compared to 2021.
Although volumes at Port Houston had continued to be extremely solid through November, with the fourth largest month on record, port executives noted that they expected import activity would likely begin to level off during the next few months in the U.S. Gulf. They said that the impacts of the historic global supply chain demand were beginning to disappear and the port's vessel queue was reduced to single digits and will likely be caught up in the coming weeks.
Analysts also attributed Houston's sustained growth in the second half of 2022 to a shift in shipments away from West Coast ports where there were fears of labor troubles. U.S. East Coast ports, especially the southern ports of Savannah and Charleston, experienced backlogs leading shippers to use alternate ports to avoid delays.
Long term, Houston continues to have a favorable outlook for container volume growth and highlights that the port continues to make investments in its infrastructure to support future growth.