Heavy Lift Ship Hits Barge at Ingalls Shipbuilding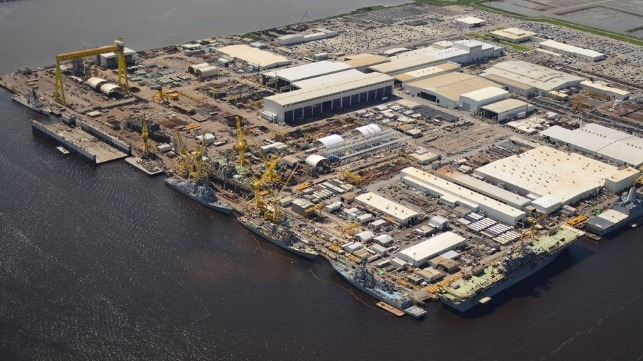 On Friday morning, a heavy lift ship allided with a test barge at Huntington Ingalls Industries' yard in Pascagoula, Mississippi, pushing the barge into a newbuild destroyer.
The heavy lift ship was arriving from Qingdao with a new Chinese-built floating drydock on board. According to HII, the test barge was alongside DDG 119, the USS Delbert D. Black, at the time of the allision. The barge was supporting electrical work on board the destroyer, and the impact pushed it against the newbuild's hull. Several individuals suffered minor injuries and were treated at the scene.
The cause of the incident is under investigation.
Images from the scene identify the heavy lift ship as the Hawk, one of the largest semi-submersible vessels of her kind. She is operated by an Oslo-based heavy lift firm. She last made the the news in 2016, when she carried the damaged drill rig Transocean Winner away from the Isle of Lewis, UK.
DDG 119, the USS Delbert Black, is the first ship named after a master chief petty officer of the Navy (MCPON). Her namesake, Delbert D. Black, was a veteran of WWII and the first master chief petty officer of the Navy.
DDG 119 was christened in 2017 and will be fully manned by the fourth quarter of 2019. She is the 32nd Arleigh Burke-class destroyer built by Huntington Ingalls.