Heavy Lift Ship Arrested After Allision at Ingalls Shipbuilding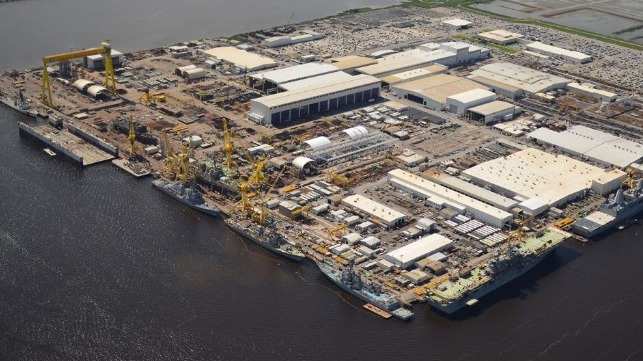 A federal court in Mississippi has ordered the arrest of the heavy lift ship Hawk in connection with a costly allision last month at Ingalls Shipbuilding.
On March 29, the Hawk was arriving at the Ingalls yard from Qingdao with a new Chinese-built floating drydock on board. The Hawk allided with a test barge at the yard, pushing the barge into a newly built destroyer, the USS Delbert D. Black. The barge was supporting electrical work on board the destroyer, and the impact pushed it against the warship's hull. Several individuals suffered minor injuries and were treated at the scene.
According to Huntington Ingalls Industries, the parent company of Ingalls Shipbuilding, the Hawk lost control as it approached its berth at the yard and went off its course. HII alleges that the Hawk, her owner and her operator were exclusively at fault for the incident.
The shipbuilder assessed the damage to the barge and wharf at $10 million, plus another $21 million for delays and work disruption at the yard. It left the door open to an additional amount for damages to the USS Delbert D. Black, payable to the U.S. Navy. HII estimates that the damages to the warship will cost in the range of $31 million to repair.
Hawk is of the largest semi-submersible vessels of her kind, and she is owned by an Oslo-based heavy lift firm. She last made the the news in 2016, when she carried the damaged drill rig Transocean Winner away from the Isle of Lewis, UK.
Hawk had a U.S. Coast Guard port state control inspection at Mobile, Alabama the day before the casualty. The marine inspectors did not note any deficiencies in her Equasis record. As of Friday, she was moored on the Pascagoula River, adjacent to Ingalls Shipbuilding.