Hamburg is Close to Finalizing Terms for COSCO's Terminal Investment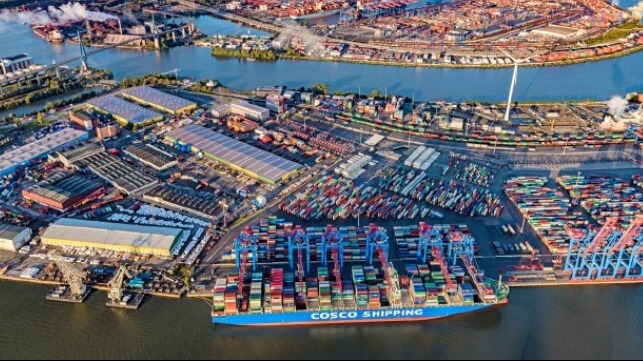 Officials at the port of Hamburg said that they are close to finalizing an agreement in the controversial deal for COSCO Shipping Ports (CSPL) to invest in one of Hamburg's large container terminals. The investment agreement announced in September 2021 has faced opposition from members of the German government as part of the backlash to China's worldwide investments.
Responding to a mandatory update filing made by COSCO to the Hong Kong Stock Exchange, Hamburger Hafen und Logistik (HHLA) said that they believed they were close to finalizing the agreement for the investment from COSCO into the Container Terminal Tollerort. HHLA has been promoting the transaction saying it would make Tollerort the preferred terminal for Asian shipments coming to the region and strengthen Hamburg's position as a logistics hub in the North Sea and Baltic Sea regions.
"We can confirm constructive talks between HHLA, CSPL, and the Federal Ministry for Economic Affairs and Climate Action," the company said in a press release. "It has been possible to agree on concrete conditions for CSPL's participation in HHLA Container Terminal Tollerort. HHLA and CSPL are currently in talks to clarify the final details and are aiming to finalize the transaction soon."
COSCO in its regulatory filing noted the passing of an "extended long stop date" on December 31, saying that the parties have been working towards the satisfaction of the non-objection condition and completion of the transaction. "As at the date of this announcement, the parties are still considering, and discussing with the Ministry in relation to the conditions," the filing noted.
COSCO announced its intentions to purchase a 35 percent stake in Tollerort in September 2021. As the investment is coming from a non-EU company, it required approval by the German government under investment law, but in the fall of 2022, it emerged that members of the German government were opposing the transaction.
HHLA emphasized that under the terms of the agreement, COSCO was only becoming an investor and that control of the terminal would not be transferred. They highlighted that HHLA would retain sole control over all major decisions and that COSCO would not receive any exclusive rights to Tollerort.
"The cooperation between HHLA and COSCO creates no one-sided dependencies," the company asserted last fall. "Quite the opposite, it strengthens supply chains, secures jobs, and promotes value creation in Germany."
The government set initial conditions lowering the shareholding COSCO would acquire to less than 25 percent. It is believed that there were some further conditions but the companies agreed not to disclose the full terms of the agreement.