Guam Works to Restore Port Services with Support from Matson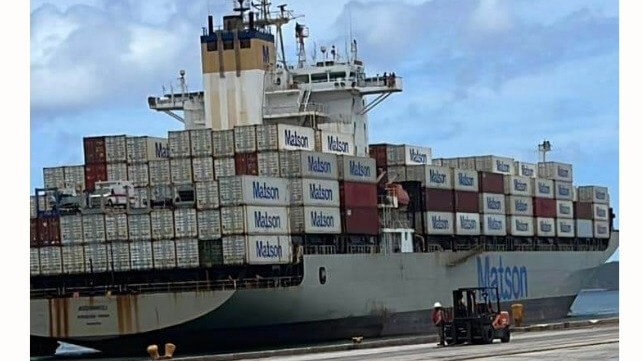 Officials in Guam report that the port has resumed operations as they work to restore service after the devastation from Typhoon Mawar. Matson is working with the Federal Emergency Management Agency (FEMA) and the American Red Cross to facilitate the shipment of relief to the American island which suffered extensive damage from the storm.
Mawar hit Guam mid-week last week with winds topping 100 mph and parts of the island receiving two feet of rain. The U.S. Coast Guard reported extensive damage to the shipping infrastructure and only reopened the island's only commercial seaport on May 28, three days after the storm cleared the island.
The Port Authority of Guam reports employees have been working around the clock to be ready to resume operations when the Coast Guard issued the all-clear. As of Sunday, they reported that debris had been cleared from the terminal yard but that while the port was functioning, assets sustained significant damage.
"We can confirm that Gantry 5 is operational after addressing damage to conduits and its circuit board," said Port General Manager Roy Respicio on Sunday announcing that they would be ready to handle an arriving Matson vessel. "Gantry 4 and Gantry 6 have issues with their computer boards and are currently being worked on."
Matson operates weekly direct service from the U.S. West Coast with the largest containerships serving Guam as part of its Jones Act operations. The Maunawili (30,000 dwt) had postponed her scheduled call to the island, sheltering from the typhoon. She became the first vessel back into the Port of Guam on May 28 and began discharging 566 containers of general goods.
The offloading was slowed because the port's push-to-talk communication service remains offline, which port officials said poses a safety hazard. They reported port employees were forced to go "old school" using pen and paper to process the movement and release of containers. The Maunawili cleared the port before 0500 on May 30. Other Matson vessels, Manoa (2,800 TEU) and Papa Mau (521 TEU) were both scheduled to arrive in Guam on May 30.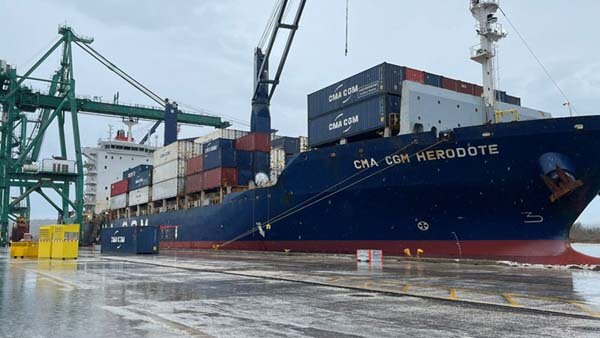 CMA CGM Herodote was using its cranes along with the one operating gantry to offload containers on May 30 (Port of Guam)
APL's CMA CGM Herodote (1,731 TEU) also made a port call at Guam arriving on May 30. She was scheduled to offload 225 containers with port officials reporting they were making good progress using a combination of Gantry 5 and the ship's gear. FEMA also assisted by supplying the port with 52 hand-help land mobile radio devices to support communications for the cargo operations.
Matson also announced that it will be contributing $350,000 in transportation and in-kind services toward disaster relief in Guam, Micronesia, and CNMI. Working with the relief organizations, Matson expects to begin delivering relief supplies with its vessel Manukai (2,600 TEU) scheduled to arrive in Guam on June 6.
Port officials reported that other parts of the operation are also making progress in the recovery. Power was restored as of May 29 permitting the port to get back online. Also, Mobil Oil Guam was able to resume discharging fuel. They reported the fuel pier although damaged in the storm has been able to function. The USCG supplied Mobil with communications devices so that they could proceed with the fuel discharge operations.