Grounded Cargo Ship Causes Ecuador Emergency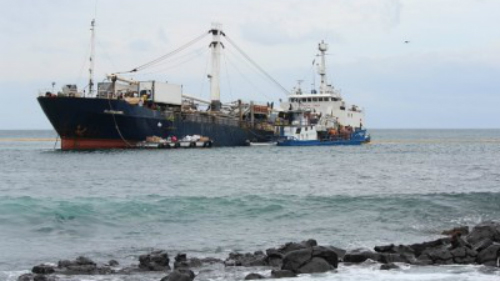 On February 4, Ecuador's Environment Minister, Lorena Tapia, together with the Minister of Transport and Public Works, Paola Carvajal, and the Minister of Non-Renewable Natural Resources Pedro Merizalde, issued a declaration of emergency for the Galapagos Marine Reserve and Galapagos National Park, to "implement the necessary and appropriate measures aimed at the rehabilitation and maintenance of marine and coastal ecosystems to environmental damage" that could be triggered by the stranding of the MV Floreana.
The cargo ship ran aground off the west coast of Shipwreck Bay in San Cristobal on January 28th, while transporting food, fuel and other products. Fears are growing that fuel leaking from the stranded vessel may place the fragile UNESCO World Heritage Site ecosystem at risk, although it has been controlled by booms.
The state of emergency will apply for 180 days and includes the national park, the protected marine reserve and the archipelago. The agreement allows officials to "provide technical advice and logistics, execute action plans and measures necessary to reduce the direct environmental impact" of the ship's grounding.
The ship, which is in the process of being refloated and removed, had its hull destroyed when it ran aground. The recovery process is expected to take two to four weeks. Most of the hazardous materials, such as gas bottles and asphalt have been recovered and removed from the vessel. Only the diesel remains on board.
Meanwhile, EP Petroecuador was given orders to take steps to improve security and infrastructure for storage and distribution of hydrocarbons in the Galapagos Province, substances that pose the greatest risk of contamination to the archipelago's ecosystems measures.
The Galapagos Islands, famous for the vast number of species and pristine environment, are located some 620 miles off Ecuador's Pacific coast.