Greenpeace Protesters Cleared of Charges for Blockading Russian Ship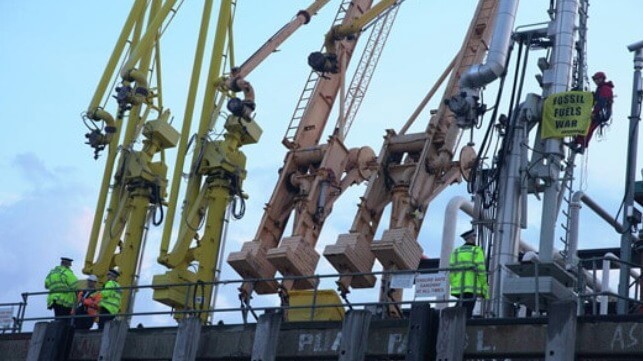 A group of Greenpeace protesters who blocked the arrival of a Russian tanker at a terminal on the Thames last year have been acquitted of charges related to their intervention, and prosecutors do not plan to appeal the decision.
Last May, the group used a Greenpeace app to track the Greek-flagged product tanker Andromeda on its voyage to the UK. The vessel departed from the Primorsk terminal in Russia on May 10, 2022 loaded with 33,000 tons of Russian diesel fuel. When the Andromeda reached Navigator Terminals near Tilbury, UK on the night of May 15, she found the pier blocked by 12 protesters. Some of the activists were sitting on the wharf, while others were hanging from the terminal, and they unfurled banners reading "Oil Fuels War."
By the end of May 16, the police arrested 15 people on suspicion of aggravated tresspassing. Prosecutors ultimately charged 10, but the judge in the case saw matters differently.
"I take the view it's more than likely the Russian war could be described as terrorism," District judge Christopher Williams concluded after a two-day trial in November. "In my view, the unloading of the oil was the potential offense."
He concluded that the protesters may have trespassed in order to disrupt a crime in progress, and he acquitted them of all charges.
On Monday, the Crown Prosecution Service said that it would not seek to appeal the judge's decision, telling the BBC only that "we respect the decision of the court."
The UK achieved its first month without any Russian petroleum in June 2022, and it fully phased out Russian oil and natural gas by the end of the year.