Greenpeace Protesters Board Palm Oil Tanker Under Way
On Saturday, the captain of the palm oil tanker Stolt Tenacity allegedly detained six Greenpeace activists after they conducted an unauthorized boarding of his vessel while under way.
At dawn, a boarding team from the Greenpeace vessel Esperanza used a daughter craft to approach the Tenacity as she transited the Gulf of Cadiz. While maintaining position alongside the Tenacity's starboard side, the team hooked a boarding ladder onto her rail. Six Greenpeace activists were on board before the crew was on deck to confront them.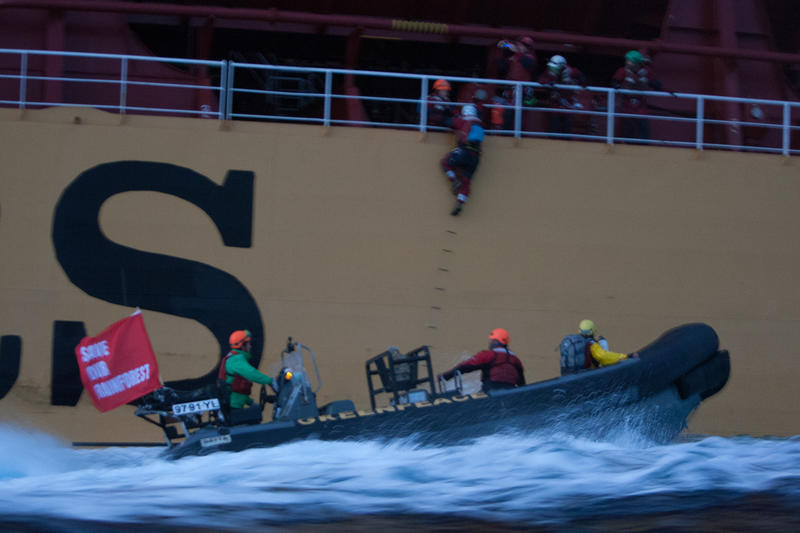 Image courtesy Greenpeace International
The master of the Esperanza called the Tenacity to explain. "Good morning mate, you have been boarded by a Greenpeace boarding team. I want to assure you that they are not pirates, they are not armed, and they will do nothing to hinder the movement of your ship, they are just protesting your carriage of palm oil. Over," he said.
Greenpeace alleges that the activists were held in one of the ship's cabins while the Tenacity transited to Algeciras, where they disembarked. Stolt has denied that the activists were detained during the transit, and says that they were provided with food and a safety briefing.
Greenpeace targeted the Tenacity because she was carrying a cargo of palm oil from Singaporean trading house Wilmar International, a leading supplier to snack food giant Mondelez. Mondelez uses palm oil to make many well-known products, including Oreo cookies, Cadbury chocolate bars, and Ritz crackers. Greenpeace alleges that Mondelez' palm oil suppliers have destroyed 170,000 acres of rainforest across Southeast Asia in two years, and alleges that these suppliers engage in illegal clearance, forest fires and land grabbing.
"I'm from Indonesia. I've witnessed the devastating impact of deforestation for palm oil and our cities choking with haze as a result of the forest fires. I'm here to send a message to Mondelez that Wilmar's dirty palm oil is destroying our home," said Waya Maweru, an activist from Sulawesi and a member of the boarding party. "Wilmar has been turning its back on deforestation and human rights abuses for too long."
The Tenacity is a 39,000 dwt product tanker fitted to carry palm oil. As of Monday night, she was under way off Portugal, bound for her original destination of Rotterdam.