Greenpeace Calls for Strong Show of Support for the High Seas Treaty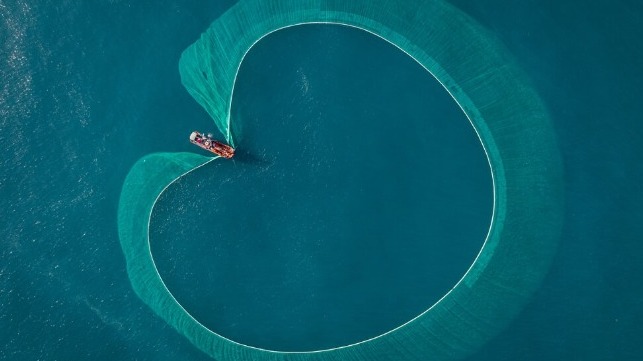 Following the adoption of the High Seas Conservation Treaty in June, Greenpeace is now pushing for countries to demonstrate their commitment to its implementation when world leaders converge in New York next week.
Greenpeace calls for at least 60 countries to sign the treaty when it opens for signatures at the United Nations General Assembly (UNGA) on September 20, a development that will send the clearest indication that nations are committed to its full implementation.
The NGO says that signing of the treaty does not require a legal process in domestic legislation but indicates an intention to ratify it in the future. Although non-binding, a signature sends a strong signal of intent to ratify and demonstrates determination to see the treaty enter into force. For the treaty to become legally binding, at least 60 countries must ratify, a process that requires domestic legislation in each individual country.
In June, the world adopted the high seas treaty that creates a legal framework for the creation of marine protected areas after two decades of negotiations. The treaty has been hailed as a landmark achievement in the push to protect 30 percent of the world's land and sea by 2030.
"The Ocean Treaty was a historic win for nature, but it remains nothing more than a symbolic document until it is signed, ratified, and implemented," said Arlo Hemphill, Greenpeace USA's senior ocean campaigner.
Ahead of UNGA, Greenpeace has released a major analysis of the cumulative impacts of ocean threats, showing the health of the vast water bodies is coming under increasing danger from expanded industrial fishing, ocean warming, acidification and pollution, including plastics. Oceans are also facing threats from shipping and the looming risk of an emerging deep sea mining industry.
The report finds that the commercial fishing industry is in fact emerging as a major threat to oceans. Over the five-year period from 2018 to 2022, the world witnessed a staggering 22.5 percent increase in the hours boats spent fishing on the high seas in areas earmarked for protection under the 30×30 framework.
Overall, there was an 8.5 percent increase (662,483 hours) in high-seas fishing hours between 2018 (7,825,411 hours) and 2022 (8,487,894 hours), a trend that show reality at sea is moving in the opposite direction from the ambition laid out in the treaty.
The report contends that longliners, squid jiggers and trawlers were the most common gear types used in industrial fishing. Longliners, which made up over three quarters of total fishing activity on the high seas globally, have thousands of baited hooks some stretching over 100 kilometer long. Overfishing using this kind of gear, for instance, has resulted in Pacific leatherback turtles, bluefin tuna and oceanic whitetip sharks all losing more than 90 percent of their population in less than three decades.
The 30×30 framework commits countries to protect and conserve at least 30 percent of the ocean and ensure 30 percent of degraded areas are under restoration by 2030 with the treaty creating a process for establishing marine protected area networks in areas beyond national jurisdiction, a development that is critical for meeting the global targets.
The treaty is designed specifically to conserve marine life beyond the 200 nautical mile limits of national jurisdiction, an area which makes up an immense 61 percent of the world's ocean. Currently, less than one percent of the high seas are adequately protected, yet to reach the 30×30 goal, over 4.2 million square miles of the ocean must be protected every year.