Global Seafood Consumption Hits Record Levels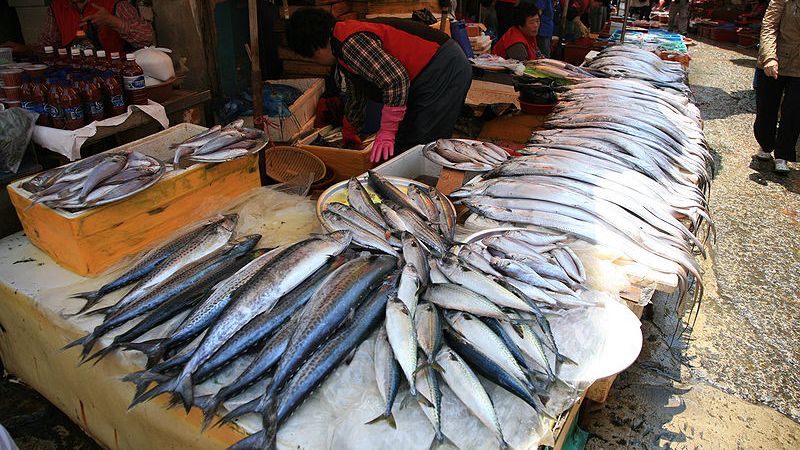 The UN Food and Agriculture Organization said Thursday that their latest survey shows that world per capita seafood consumption has hit a record level, exceeding 20 kg per person per year for the first time in history, a level twice the average in the 1960s. The global trade value of seafood exports has also increased to nearly $150 billion – an 18-fold increase over the last four decades.
The high volume is supplied in part by ever-growing aquaculture operations; the sector's production grew to over 70 million tonnes in 2014. Key farmed species include molluscs, crustaceans and carp, plus edible seaweeds and microalgae – many of which do not require intentional feeding, increasing their sustainability and resiliency as food sources. China is by far the leader in aquaculture, but others are catching up quickly: the industries in Chile, Indonesia, Vietnam and Norway have been growing quickly, and production in Nigeria has risen by a factor of 20 over two decades, FAO said.
The remainder of the more than 150 million tonnes produced annually comes from wild catch fisheries. As of the FAO's latest monitoring information – dating back to 2013 – about one third of commercial wild stocks were overfished, a level that the organization says has remained stable since 2007.
The organization highlighted management measures that appear to be succeeding in stabilizing stocks or reducing harm – including stable catch levels for the Patagonian toothfish (or Chilean Sea Bass), North Atlantic halibut, flounder and haddock.
Other stocks are under more pressure. In the Mediterranean Sea and the Black Sea, the FAO assesses that 59 percent of commercial stocks are overfished, a situation it describes as alarming. Large fish, including hake, mullet, sole and sea bream are especially affected, and the arrival of invasive species in the Eastern Mediterranean means additional stresses.
Several independent researchers have scrutinized FAO's data on fisheries productivity. In a study published in January in Nature Communications, Professor Daniel Pauly and Dr. Dirk Zeller of the University of British Columbia Fisheries Center released the results of their decade-long "catch reconstruction" data analysis project, with detailed adjustments to FAO's data set on global catch volume. They contend that FAO systematically underreports catches due to lack of data on subsectors like subsistence, artisanal and illegal fishing, and for discarded fish.
"The world is withdrawing from a joint bank account of fish without knowing what has been withdrawn or the remaining balance," said Pauly. "Better estimating the amount we're taking out can help ensure there is enough fish to sustain us in the future."