Global Fishing Watch, USCG Team Up to Study Illegal Fishing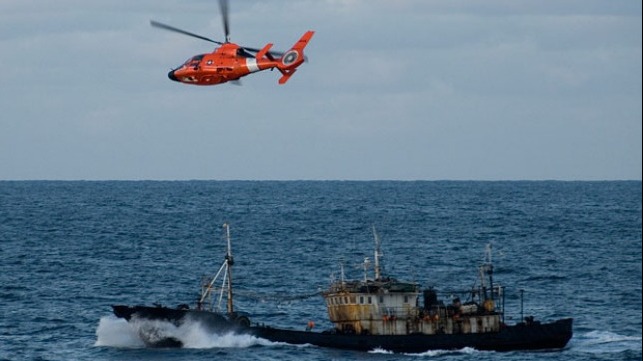 Fisheries data NGO Global Fishing Watch is teaming up with the United States Coast Guard Research & Development Center (RDC) to conduct research on illegal, unreported and unregulated fishing. The effort will focus on evaluating open-source vessel movement data, capturing data and satellite imagery, and advancing understanding of patterns of vessel activity related to IUU fishing.
With backing from Bloomberg Philanthropies, Global Fishing Watch is setting up a new data and analytical group to collaborate with external agencies. The collaboration with RDC is the division's first external partnership, but Global Fishing Watch has collaborated with many other governmental agencies in the past, including the Australian National Centre for Ocean Resources and Security and the Japan Fisheries Research and Education Agency.
"The Global Fishing Watch Data and Analytical Cell is all about making data available and then making use of that data to achieve better analysis and shared awareness," said Tony Long, CEO of Global Fishing Watch and Commander, Royal Navy (ret'd). "To have the USCG be the first organization to benefit from our new cell would be an honor . . . effective collaborations like this can be game-changing in the fight to combat IUU fishing."
Global Fishing Watch's database includes vessel-tracking data from other government agencies, including NOAA and the Peruvian and Indonesian fishery authorities. The group is also working with Colombia, Costa Rica and Panama to bring their national fishing-vessel tracking data (including VMS data) into its database.
Global Fishing Watch has led the way in efforts to correlate satellite visual imagery with AIS and VMS tracking to identify IUU fishing patterns, including tracking-evasion behavior. Unlicensed squid-jigging is particularly susceptible to satellite detection due to its reliance on high-intensity lamps during night fishing. Ship-to-ship transfers on the high seas are also an identifiable indicator of potential unregulated fishing.