Korean Yard Builds Sail Cargo Ship for Marshall Islands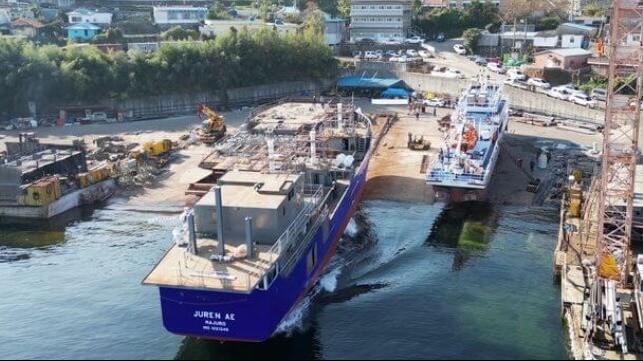 A small yard in Geoje, South Korea has launched a modern update of a motor-sail cargo vessel for the Marshall Islands' government shipping company, building on an idea trialed with economical sailing vessels like the SV Kwai.
The future Juren AE is a 300-ton coastal freighter designed for the South Pacific inter-island trade. It was commissioned by the German Society for International Cooperation (GIZ) and designed by a team from Emden/Leer University of Applied Sciences, Kostec, and Asia Shipbuilding Co., a small yard based in the Korean shipbuilding hub of Geoje.
Sail-driven cargo vessels have a better business case when fuel prices are high, as they are in the remote islands of the Pacific. Sailing rigs are labor-intensive to operate, but this particular ship will be fitted with a partially-automated sailing system based on the INDOSAIL design, a German-Indonesian invention with roots at Hamburg's ship model basin (HSVA).
The design should have a service speed of about 12 knots when under sail, and seven knots with an auxiliary diesel engine when required. If there is more wind power than needed, the propeller can turn a generator via a hybrid transmission, charging up a battery rack. For low-speed maneuvering, the battery-electric drive can put that power back to use. The vessel will also have a solar panel system for onboard power.
In all, the designers believe that its emissions will be 80 percent lower than the carbon output of a conventional vessel of the same size, and they hope to get all the way to carbon neutrality in the future.
"Despite the relatively simple and cost-effective construction concept, there are many innovations in the ship that are exemplary for future zero-emission shipping," said Prof. Captain Michael Vahs from Emden/Leer University.
Juren AE launched on Wednesday, and when it is complete, a team from Emden/Leer will help the Marshall Islands Shipping Company build familiarity with the vessel and its systems. The ship could be a template for other shipping projects, the partners say, and it will likely be open to viewers in an open house in Geoje in February 2024.