Gazprom and PetroVietnam Agree Offshore Development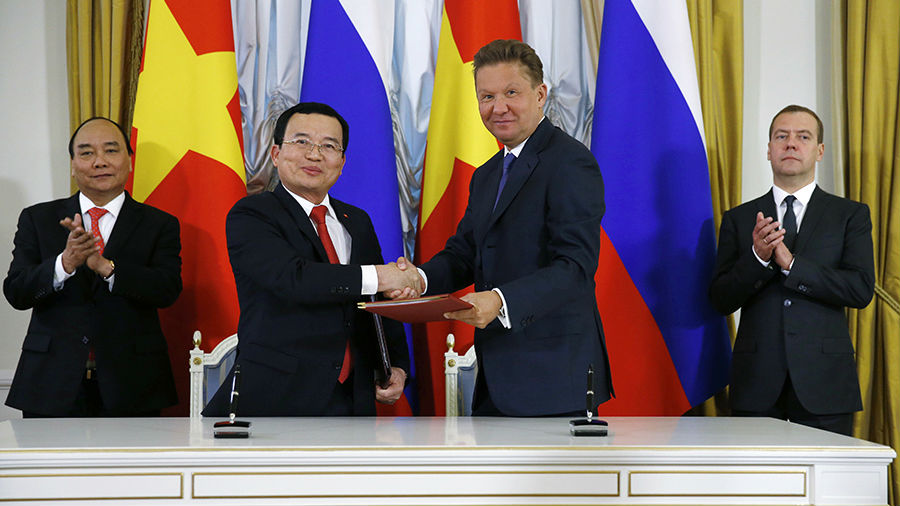 Gazprom and PetroVietnam are extending their oil and gas development cooperation.
Alexey Miller, Chairman of the Gazprom Management Committee, and Nguyen Quoc Khanh, Chairman of the Board of Directors of PetroVietnam, signed documents this week that will see the two firms cooperate on new offshore oil and gas projects.
According to the Memorandum of Understanding on the development of new oil and gas projects, the parties plan to examine further opportunities for mutually beneficial cooperation in the field of hydrocarbon prospecting, exploration and development. Among the opportunities being considered are joint activities within new projects at licensed blocks on the shelf of Vietnam and in other countries.
A Memorandum of Understanding on power generation that was also signed this week moves ahead on joint projects involving gas-based power generation within Vietnam. The parties plan to use gas from their joint projects offshore Vietnam and LNG from Gazprom Group's portfolio.
Vietgazprom, the joint operating company established by Gazprom and PetroVietnam, conducts exploration activities in blocks 112 and 129–132 located on the continental shelf off Vietnam. Gazprom is represented in the joint venture by Gazprom International, a specialized company for the implementation of hydrocarbon prospecting, exploration and development projects outside Russia.
Since 2013, Gazprom International and PetroVietnam have been engaged in commercial gas and condensate production from the Moc Tinh and Hai Thach fields within licensed blocks 05–2 and 05–3 offshore Vietnam (with recoverable gas and condensate reserves amounting to 35.9 billion cubic meters and 15.2 million tons respectively).
Training Cooperation
Since 2012, Gazprom and PetroVietnam have been implementing the five-year cooperation agreement on personnel training which was also extended along with the oil and gas agreement. Every year PetroVietnam's employees study in master's and doctoral degree programs at the Gubkin Russian State University of Oil and Gas. Gazprom and PetroVietnam also offer trainee exchange programs at the companies' production facilities on an annual basis.
Rosneft Drilling Off Vietnam
Rosneft Vietnam started drilling exploration wells offshore Vietnam earlier this year - Rosneft's first drilling project outside Russia. Rosneft is currently involved in projects of gas and condensate production and exploration in two blocks offshore Vietnam:
Block 06.1: Rosneft Vietnam owns 35 percent of the project and is the project operator; The project is based on the Production Sharing Contract (PSC). The PSC area comprises two gas condensate fields – Lan Tay and Lan Do. The deposits are located 370 km off the coast in the Nam Con Son basin with a sea depth of up to 190 meters. The field's initial gas reserves are about 68 billion cubic meters. By June 2015, the block produced its 300-millionth barrel of oil equivalent (or more than 46 billion cubic meters of gas). In 2015, the gas produced in Block 06.1 provided about 12 percent of the energy needs in Vietnam.
Block 05.3/11: Rosneft Vietnam B.V. owns 100 percent of the project and is the project operator. The license area is located in the region with proven oil and gas content and infrastructure, and is adjacent to fields under development in Block 06.1. The resources of block 05.3/11 are currently estimated at about 40 billion cubic meters of gas and nine million tons of gas condensate.
Rosneft also owns 32.67 percent of the Nam Con Son pipeline, which delivers gas and condensate from the offshore blocks of the Nam Con Son basin to the onshore power generation complex, which creates potential synergies when commercial reserves in Block 05.3/11 are discovered.
Vietnam Emerging as Important Producer
Over the past few decades Vietnam has emerged as an important oil and natural gas producer in Southeast Asia. Vietnam has boosted exploration activities, allowed for greater foreign company investment and cooperation in the oil and gas sectors and introduced market reforms to support the energy industry. These measures have helped to increase oil and gas production. Also, the country's rapid economic growth, industrialization and export market expansion have spurred domestic energy consumption over the past decade.
Vietnam held 24.7 trillion cubic feet (Tcf) of proved natural gas reserves at the end of 2015, up from 6.8 Tcf in 2011, according to OGJ. Half of these reserves are located in the northern deepwater areas of the Song Hong basin and have high carbon dioxide contents, making the production investment costly. Major new developments are expected from ExxonMobil's CaVoi Xanh field and the overlapping basin with Malaysia. However, low natural gas prices and the lack of gas infrastructure outside of the southern part of the country are impediments to upstream investment.
Vietnam produced 376 billion cubic feet (Bcf) of marketed natural gas in 2015, up nearly five percent from 2014 levels, all of which was domestically consumed. The country is still self-sufficient in natural gas, but PetroVietnam predicts a growing supply gap characterized by demand surpassing supply, particularly in the power sector in southern Vietnam.
The Vietnamese government plans to import LNG in the southern part of the country to help satisfy the growing demand for gas especially in the power sector. PetroVietnam Gas, a subsidiary of PetroVietnam, is developing the 48 Bcf/y-Thi Vai LNG terminal in the Vung Tau province in southern Vietnam, which is expected to be operational in 2018. A second terminal, Son My LNG, with 86 Bcf/y of capacity, is also proposed to come online in 2020. Subsequent phases are planned for the early 2020s.