Frank Del Rio Retires After Three Decades Leading Cruise Industry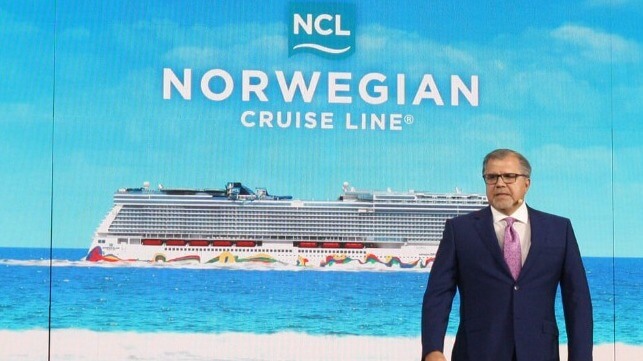 Frank Del Rio, a leader of the cruise industry responsible for much of its continued rapid growth and an outspoken voice during the pandemic and the industry's recovery officially retires from his position of President and CEO of Norwegian Cruise Line Holdings tomorrow, June 30. As his legacy, he leaves an industry that continues its strong recovery, a revitalized and rapidly growing Norwegian Cruise Line, Oceania Cruises with a unique position in the upper premium market segment, and Regent Seven Seas Cruises as one of the leaders in ultra-luxury cruising.
The subject of a 2022 cover story in The Maritime Executive, Del Rio is concluding a career spanning three decades that began as an accountant and then as a CFO in the cruise industry. He was with Renaissance Cruises rising to lead the company, which was a pioneer in the emerging small ship luxury market and direct consumer marketing. In turmoil, Renaissance went bankrupt after the 9/11 terrorist attacks in 2001.
For Del Rio the collapse of Renaissance Cruises was a stroke of good fortune as it allowed him to be co-founder of Oceania Cruises. Using ships built for Renaissance Cruises but creating a new approach focused on resort-style cruising they launched a new segment of the market known today as upper premium. The brand flourished and over the years has developed its positioning as a leader with unique culinary offerings and destinations. As part of the celebration of Del Rio's career and Oceania's 20th anniversary, he marked the launch of Oceania's new luxury 67,000 gross ton cruise ship Vista in May 2023, the first of two new ships being built for the brand now headed by his son Frank A. Del Rio.
With the backing of well-known New York financial firm Apollo Management, Del Rio reshaped the luxury cruise segment growing Oceania and then acquiring Regent Seven Seas Cruises, a brand that was being largely neglected by its owners. They formed a new management company called Prestige Cruises for the two brands and seven years later sold the company to Norwegian Cruise Line.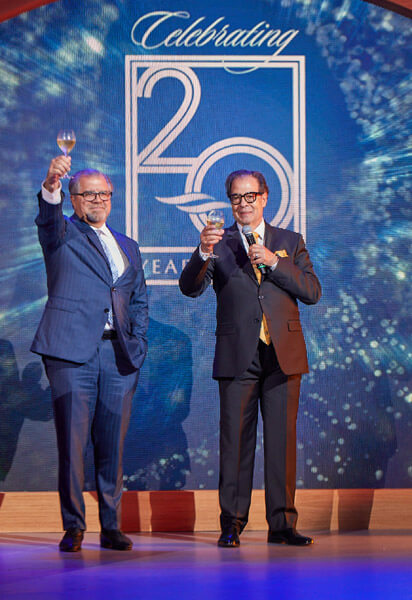 Frank Del Rio marked 20 years for Oceania Cruises at the May 2023 launch of the line's newest ship (Oceania Cruises)
At age 60, Del Rio thought he was retiring after the sale of his company, but was called back weeks later to take the helm of the newly created Norwegian Cruise Line Holdings. Assuming the lead in 2015, he helped Norwegian Cruise Line refine its strategy, hone its focus on Freestyle Cruising, and continue its growth. Del Rio liked to say that he personally focused on the itineraries for the company's ships understanding the critical role it played in the cruise experience. Born in Cuba and coming to the USA as an immigrant, in 2017 his company was among the first to sail to Cuba when the market briefly reopened.
Under his leadership, Norwegian refined its ships and presentation and enhanced the cruise experience in key elements ranging from food and beverage to entertainment. It is also reported that Del Rio's grandchildren were the inspiration for one of Norwegian's most popular amenities. They asked why a cruise ship could not have go-carts. Del Rio challenged the company's team resulting in the introduction of the first racetracks with electric race cars on Norwegian's newest ships.
Both Oceania and Regent Seven Sea Cruises also benefitted from his vision and passion for the décor, art, and experience aboard the company's ships. Regent Seven Seas introduced a series of new ships, the last, Seven Seas Grandeur (55,250 gross tons) due to enter service in November 2023, each billed as the world's most luxurious cruise ship. Oceania launched its first new cruise ship in a decade this year and the sister ship Allura enters service in 2025.
Del Rio oversaw the introduction of eight new cruise ships since 2015. He guided the company to industry-leading yields and financial results and now has placed it firmly back on its foundation after the pause in operations starting in 2020 due to the pandemic.
Frank Del Rio will continue with the parent company, Norwegian Cruise Line Holdings, as a senior advisor through 2025. He was succeeded by Harry Sommer, who had been president of Norwegian Cruise Line since 2020.