France Nationalizes STX France, Reopens Negotiations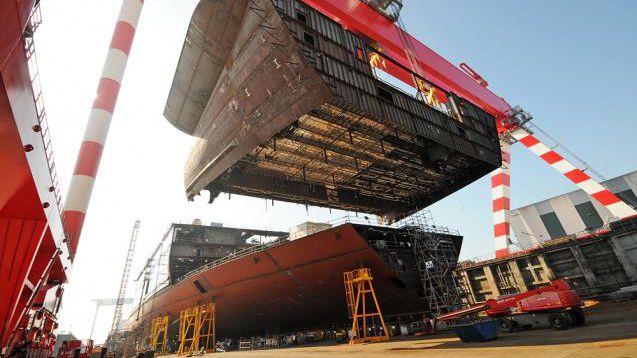 On Thursday, France followed through on its threat to nationalize the STX France yard at St. Nazaire after Italian shipbuilder Fincantieri refused a new proposal to split ownership equally. French Finance Minister Bruno Le Maire maintains that the nationalization is a temporary move, and that the government would still like to reach an agreement with Italy for the shipyard's sale – but on French terms.
Fincantieri was the preferred bidder for the sale of STX Offshore's 66 percent stake in the yard. While France was a minority shareholder, it had a contractual clause that allowed it to veto any acquisition deal, which opened the possibility of purchasing STX's stake.
The nationalization unwound Fincantieri's deal with the administration of President Francois Hollande, which would have let the shipbuilder and an Italian investment group purchase a controlling stake of 55 percent. President Emmanuel Macron's recently elected government objected to this agreement on the grounds that it would cost France its control of a strategic naval yard and its jobs. A nationwide poll found that 70 percent of French citizens supported nationalization.
Italy's Economy Minister, Pier Carlo Padoan, and its Industry Minister, Carlo Calenda expressed their displeasure in a joint statement. "Nationalism and protectionism are not an acceptable basis for establishing relations between two great European countries," they wrote. "To work on joint projects you need reciprocal trust and respect." They also pointed to the fact that Korean firm STX Offshore & Shipbuilding had held a controlling stake in STX France for years. Fincantieri CEO Giuseppe Bono expressed a similar sentiment, telling reporters on a conference call that "we are Europeans and on STX we cannot accept being treated worse than the Koreans."
Minister Le Maire told the Journal du Dimanche that as a gesture of openness, he would like to expand the scope of cooperation with Fincantieri to include naval shipbuilding, a partnership to form "a great champion of the European shipbuilding industry." He will travel to Rome on Tuesday to resume negotiations with the Italian government.