?Floating Chernobyl? Departs St. Petersburg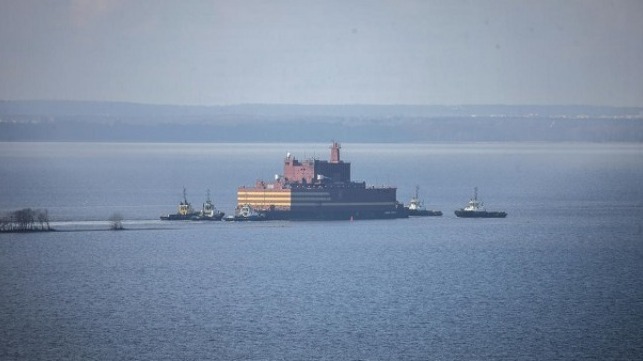 The Akademik Lomonosov, the world's first floating nuclear power plant, left St. Petersburg on Saturday. The vessel will be towed through Estonian, Danish, Swedish and Norwegian waters on its way to Murmansk.
Greenpeace has dubbed the vessel the "floating Chernobyl" and "Chernobyl on ice" in reference to the 1986 nuclear disaster at the Chernobyl power plant which prompted a mass evacuation and left large areas of the Ukraine and neighboring Belarus uninhabitable.
The Akademik Lomonosov was initially planed to be loaded with nuclear fuel and tested on site in St. Petersburg. However, due to pressure from Baltic states and a petition organized by Greenpeace Russia, Rosatom, the state-controlled owner, decided last year to move loading and testing to Murmansk.
"To test a nuclear reactor in a densely populated area like the center of St. Petersburg is irresponsible to say the least. However, moving the testing of this "nuclear Titanic" away from the public eye will not make it less so," said Jan Haverkamp, nuclear expert for Greenpeace Central and Eastern Europe. "Nuclear reactors bobbing around the Arctic Ocean will pose a shockingly obvious threat to a fragile environment."
In Murmansk, a city of 300,000, the Akademik Lomonosov will be fueled, tested and, in 2019, towed through the Northern Sea Route and set up Pevek in the Chukotka Region. There it will power a port town, oil rigs and a desalination plant. The twin reactors are expected to provide up to 200,000 people with electricity.
According to Russian media, Rosatom is planning more such vessels. Rosatom has already been in talks with potential buyers in Africa, Latin America and South East Asia. There are indications that 15 countries, including China, Algeria, Indonesia, Malaysia and Argentina, have shown an interest in hiring floating nuclear plants.
"The floating nuclear power plants will typically be put to use near coastlines and shallow water. Contrary to claims regarding safety, the flat-bottomed hull and the floating nuclear power plant's lack of self-propulsion makes it particularly vulnerable to tsunamis and cyclones," says Haverkamp.