Firefighting Efforts Continue on MSC Daniela
In an update issued April 6, the Sri Lankan Navy said that a fire aboard the container ship MSC Daniela continues to smolder, and that firefighting assets are still dousing the vessel's topsides with water. The Indian Coast Guard ship Shoor is on scene to assist, along with the Sri Lankan Navy vessel Sagara. The Indian Navy has also diverted the vessels INS Darshak and INS Garriel at the request of the Sri Lankan authorities. A Sri Lankan Air Force Bell 212 helicopter is providing aerial firefighting assistance.
The Sri Lankan Navy reported that thick white smoke is still emanating from a few containers as the firefighting effort entered its third day. Earlier statements from industry sources suggested that the fire was brought under control at 0630 hours on Wednesday. As of 0200 hours on April 7 (local time), the Daniela's AIS signal showed her anchored about 14 nm northwest of Colombo, attended by the tugs Maha Wewa and Hercules and the OSVs Capricorn and Posh Virtue.
The crew of the Daniela were not injured in the blaze. MSC said that the vessel will be brought to a berth at the appropriate time, and that an investigation into the fire will be formally initiated. The extent of the damage to the vessel and the cargo are not yet known. MSC suggested that shippers with containers on board the Daniela should contact their local MSC office. Sri Lankan media reports that the 14,000 TEU Daniela is loaded with about 10,000 twenty-foot equivalent units of cargo.
The fire broke out Tuesday morning at a location 120 nm off the coast of Sri Lanka. The Sri Lankan Navy received a distress call from the vessel's agent and dispached the Sagara to assist.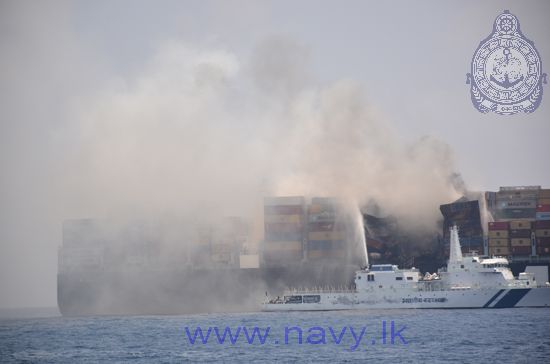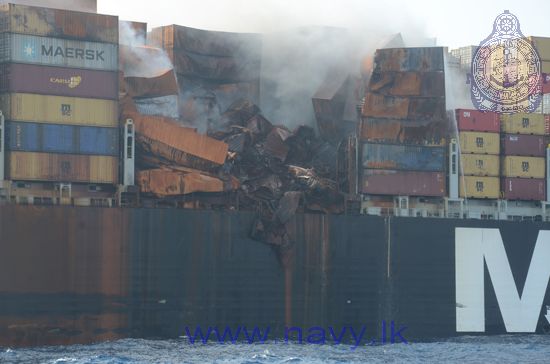 Indian Navy vessels fighting the fire on the Daniela, April 5