Fire Off Balikpapan Kills Two Fishermen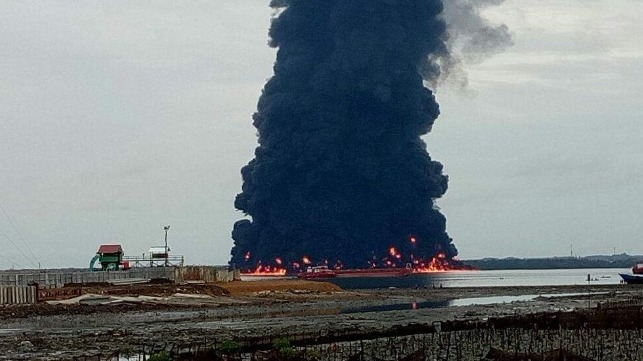 On Saturday, a fire broke out near the bulker Ever Judger at Balikpapan Bay, Indonesia. Two individuals - believed to be fishermen - were killed, and one of the Judger's crewmembers suffered burn injuries. All 20 members of the Judger's crew were successfully evacuated.
Indonesian authorities reported that the fire broke out during a burn-off operation intended to clean up a fuel oil spill. The fire has since been extinguished, but remnants of the spill remain. The source of the oil has not been determined.
Kebakaran di Perairan Balikpapan pic.twitter.com/8tKgZXU3eS

— Juniansyah (@Damkar_Smr) March 31, 2018
Oil firm Pertamina operates a refinery near the spill location, but the firm said that it found no indication of leakage from its facilities. Pertamina personnel helped to put out the fire.
Balikpapan's local authorities have declared a state of emergency due to the spill, and municipal secretary Sayd MN Fadli warned residents to be careful with their cigarette butts near the bay. "I may be exaggerating, but the bay is now like a gas station," Fadli told the Jakarta Post.
Indonesian environmental group WALHI accused Pertamina of responsibility for the spill. The local branch leader, Fathur Roziqin Fen, called for a thorough investigation into the cause and the pursuit of civil and criminal charges if warranted.