Fire Breaks Out Aboard U.S. Navy Minesweeper in Bahrain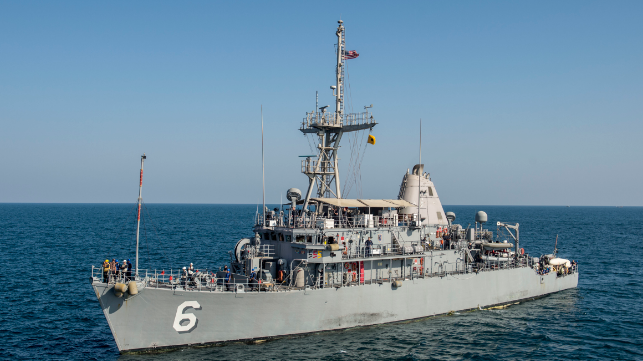 Last night, a fire broke out aboard the mine countermeasures ship USS Devastator while the ship was pierside at the U.S. Navy base in Bahrain.
The fire broke out at about 2000 hours, and sailors aboard the Devastator, USS Sentry, USS Gladiator, USS Dextrous, and USS Whirlwind, as well as the NSA Bahrain Fire Department, responded to the scene. The ship declared the fire out at approximately 2100 hours, and sailors continued to cool hot spots to prevent a reflash.
There were no injuries reported. The extent of the damage is being assessed, and the cause of the fire is under investigation.
The Devastator is an Avenger-class MCM vessel, and is one of 21 forward-deployed ships assigned to the U.S. 5th Fleet. She is built of wood and fiberglass to reduce her magnetic signature, making her one of the U.S. Navy's few remaining wooden-hulled vessels.