Failed Welds Lead to More Delays for Outer Banks Ferry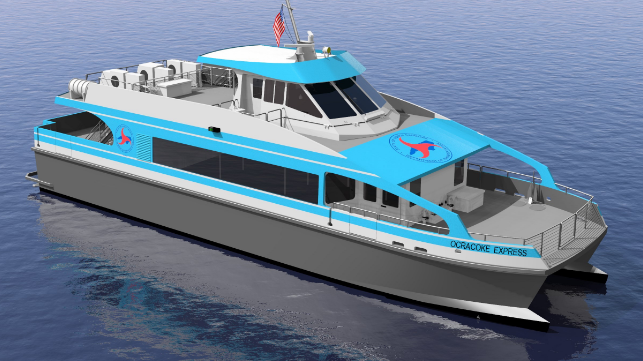 The Okracoke Express, a new $4 million passenger ferry for the route between Hatteras and Okracoke Island on North Carolina's Outer Banks, has encountered serious difficulties in construction. According to the naval architecture firm that designed the aluminum-hulled vessel, many of her welds failed inspection, and work was halted on February 19.
According to local outlet Island Free Press, it is not yet certain whether it will be possible to repair the vessel and put it in service. The U.S. Coast Guard required the builder, shipyard U.S. Workboats, to come up with a mitigation plan for repairs. The plan was approved and work resumed March 25 - now with a third-party contractor to monitor all welding.
Whether the newbuild can be repaired or not, the long-delayed vessel will not be ready for the summer tourism season, and state officials are planning to charter a temporary replacement from East Coast operator Seastreak. In the long run, "if the new [ferry] is dead, we might purchase [a used] one," said North Carolina House Transportation Appropriations Committee chair John A. Torbett, speaking to Coastal Review.
The ferry is a walk-on, passenger-only design, and it is intended to take some of the workload off of the busy car ferries that already work the same route. The Hatteras-Okracoke run is the busiest in North Carolina, serving about 500,000 passengers per year, and shoaling has forced the larger ferries to take a longer route, increasing transit times and reducing the number of runs per day.
Okracoke Village, a popular tourist destination on the island, hopes the new ferry will encourage visitors to come on foot rather than bring more cars onto the island. The state and federal governments have invested nearly $10 million to facilitate this pedestrian-friendly, low-traffic option.