Explosion Damages Turkish Bulker Off Yemen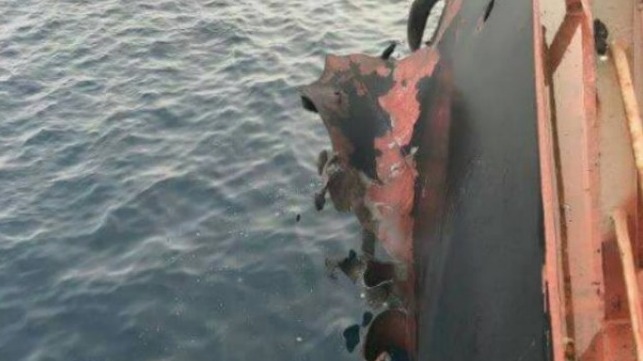 On Thursday, Saudi coalition forces reported that the Turkish bulker Ince Inebolu suffered an explosion of unknown cause while anchored about 70 nm off the port of Hodeidah, Yemen.
In the recent past, Houthi rebels have launched attacks on Saudi-allied vessels off Hodeidah. However, Saudi officials said that in this instance, the blast appeared to have originated from within the hull. "Coalition forces conducted a survey of the incident and visited the ship and found an explosion from the inside to the outside," a coalition spokesman told Reuters in a statement.
Images published in Houthi-controlled media show the Inebolu's hull plating bowed outwards and a large hole with jagged edges curled towards the exterior of the vessel. Additional small holes with edges pointing outwards were also visible in the weather deck.
The Inebolu was waiting for entry to the Houthi rebel-controlled port of Saleef at the time of the blast. Coalition forces arranged for a tow to bring her to the Saudi port of Jizan.
Houthi forces contend that the Inebolu was struck by Saudi coalition warplanes. In a statement, the Houthi ministry of transport told semi-official news outlet Saba that the vessel "was targeted by [the coalition] after taking the permit to enter from the [UN Verification, Inspection and Monitoring] office in Djibouti."
The Inebolu also made headlines in 2014 when she went aground on the Greek island of Astypaleas. She was refloated shortly after the incident, and no pollution or injuries were reported.