European Shipyards Launch Digital Standards Initiative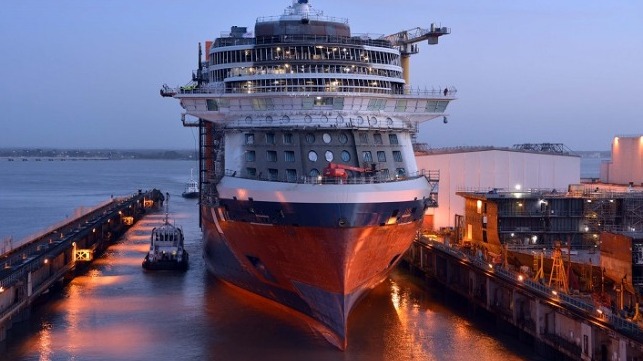 The members of European shipbuilders' association EUROYARDS are launching a new standards initiative for ship systems data.
EUROYARDS' members - Damen, Naval Group, Fincantieri, Lürssen Werft, Meyer Werft, Meyer Turku, Navantia and Chantiers de l'Atlantique - include top builders of cruise ships, megayachts, specialty vessels and warships. Collectively, they have a production value of approximately $15 billion, and they hold a significant share of the market for complex vessels.
In collaboration with shipowners, suppliers and classification societies, these shipyards will work to standardize their data management methods. Modern ship equipment generates large amounts of data about operating status and performance, and if that data can be captured in a usable format, it can be analyzed by maritime stakeholders to search for possible improvements.
According to the projects' partners, this will help to meet European goals for the maritime sector's sustainability. It will also help to lay the groundwork for future opportunities for marketable tech products in AI, IoT and Big Data.
The project is also supported by the Shipyards' and Maritime Equipment Association (Sea Europe), which also represents all of EUROYARDS' members.
Ocean carriers launch digital standards association
On April 10, MSC, Maersk, Hapag-Lloyd and Ocean Network Express (ONE) officially established the Digital Container Shipping Association (DCSA), with the goal of creating common IT standards to make the industry more efficient.
The plan to create a neutral, non-profit association for ocean carriers was first announced in November 2018, and it was approved by the Federal Maritime Commission last month. The association will focus on increasing standardization, digitalization and interoperability in container shipping, and it is headed by Maersk Line digitalization advisor Thomas Bagge.
It is not the first time that the containerized freight industry has formed an association to address common IT needs for business operations: INTTRA, the neutral digital platform that handles one out of every four container bookings, started many years ago as a joint industry effort with many of the same founding members.
"For the first time in twenty years, the container shipping industry has come together with a common goal to move the industry into the digital era," says André Simha, the CIO of MSC and chairman of DCSA.