EMSA Providing North Sea Surveillance at Request of Danes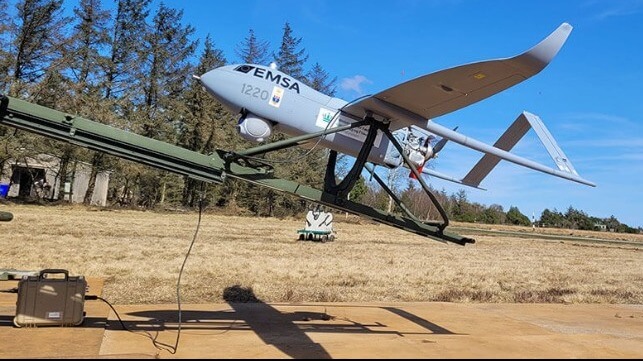 Remotely piloted aircraft are resuming flights over the North Sea region from Denmark to support enhanced maritime surveillance. The program is in response to a request from the Royal Danish Navy in cooperation with the Danish Customs and Danish Fisheries Agency and is provided by the European Maritime Safety Agency (EMSA).
The drone program began in 2018 and EMSA continues to expand its operation to support a variety of initiatives across a broad range in Europe currently stretching from Cyprus and Turkey in the east, to the Mediterranean and Baltic, along the western coast of Europe, and into the Canary Islands. According to EMSA, starting from 2020, the RPAS (remotely piloted aircraft systems) operations are concentrated on maritime geographical areas with common operational interest for more than one Member State or EU agencies.
Based on a positive outcome from a similar effort in 2022, EMSA resumed flight operations in mid-April in support of the Danish authorities with aircraft flying over the North Sea for enhanced maritime surveillance. EMSA's RPAS service will support the Royal Danish Navy's efforts on behalf of Denmark's Ministry of Environment to safeguard the protection of the marine environment in the surrounding waters by helping the Danish authorities to identify, verify, and provide information on potential oil spills and discharges at sea. EMSA reports that surveillance is especially useful in areas of high traffic density.
The data gathered from the flights will be shared live through the EMSA RPAS Data Centre allowing users to monitor any unusual activity at sea with a potentially harmful impact on the safety and security of persons and vessels in the area or affecting the environment itself. According to EMSA, the service makes it possible to monitor and alert authorities in case of drifting objects spotted at sea which may pose a danger to vessels in the vicinity and/or the environment.
The RPAS service is delivered by EMSA through its contractor agreement with Nordic Unmanned, which is operating an Aerosonde RPAS over a four-month period for Denmark. The RPAS uses a catapult for take-off and is recovered with a net. It has an endurance of 10 hours and a radio range of 140 km which can be extended based on ground relay stations. It is equipped with both an optical and infrared camera, as well as an AIS receiver.
In addition to aerial monitoring and looking for oil spills and hazards, EMSA has used its remote aircraft in coordination with authorities in the region to test emissions. They can detect vessels not meeting the low sulfur fuel requirement so that the authorities can inspect the ship in its next port of call. Current programs include monitoring fishing activity, surveillance in the Mediterranean for the Italian Coast Guard and French Navy, and standby programs to respond to oil spills or other hazards.