Officials Seek Navy Ship for Maine-to-Canada Ferry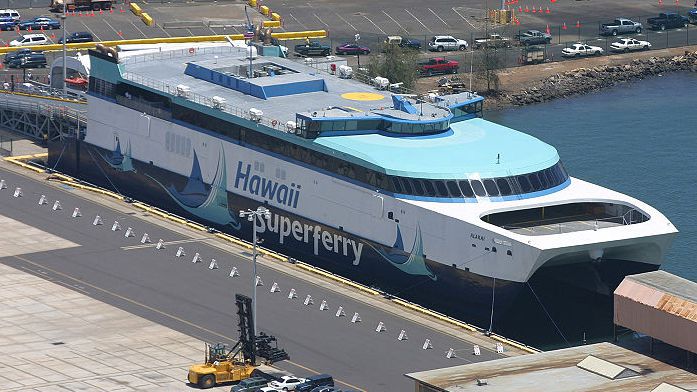 In the wake of the financial collapse of Maine-to-Nova Scotia ferry operator Nova Star Cruises, the appointed replacement firm, Bay Ferries, is seeking a new ship for the route – and elected officials in Maine have stepped in to help.
Senator Angus King, an independent, and Congresswoman Chellie Pingree (D-First District), said in emailed statements to the Associated Press Thursday that they have talked with the U.S. Navy regarding the use of military-owned vessels suitable for the Portland to Yarmouth route.
The Navy has a large inventory of vessels capable of non-military applications. A spokesman for Representative Pingree declined to comment on the specific identity of any ships requested from the Navy, but said that a Portland-Yarmouth ferry service was a vital contributor to Portland's tourism industry, and that renewed service on the line was a priority for the Congresswoman's district.
Likewise, Bay Ferries declined to comment on specifics. "Because we are competing for assets against other operators worldwide, we are limited in what we can say on the status of our search because of the risk that it would jeopardize our company's ability to get the best ship in place for the Yarmouth-Maine service in 2016," said chief executive officer Mark MacDonald in a statement Thursday. The firm has been "attempting to identify a vessel that works best for customers [and] is capable of meeting Canadian and US regulatory requirements."
Local media in Maine and online comments from individuals previously associated with the Navy's inventory suggest that one candidate could be an Austal-built high speed civilian ferry, the USNS Puerto Rico (ex name Alakai), cold stacked in Philadelphia since 2012.
The Puerto Rico was acquired with her sister ship USNS Guam (ex name Huakai) by the U.S. Maritime Administration through a loan default, then transferred to the Navy in 2012. The design of the two ships was the basis for the Navy's Spearhead-class Expeditionary Fast Transport.
Guam was repainted in haze gray, but the Puerto Rico was left in her civilian markings. Both are tied up pierside, awaiting future plans.
Former Portland-Yarmouth route operator Nova Star Cruises collapsed last year under pressure from unexpectedly poor ticket sales, despite $40 million in subsidies from the province of Nova Scotia, leaving behind more than $2 million in unpaid invoices for everything from pilot service to bunkers. The firm's chartered ship, the ro/pax Nova Star, was arrested by a U.S. magistrate as collatoral; her owners, Singapore Technologies Marine, have since settled the majority of the claims and posted a surety bond for the rest. The Nova Star was released by the court in December and set sail for the Bahamas shortly after.