Dutch Heavy Lift Companies Merge Continuing Sector Consolidation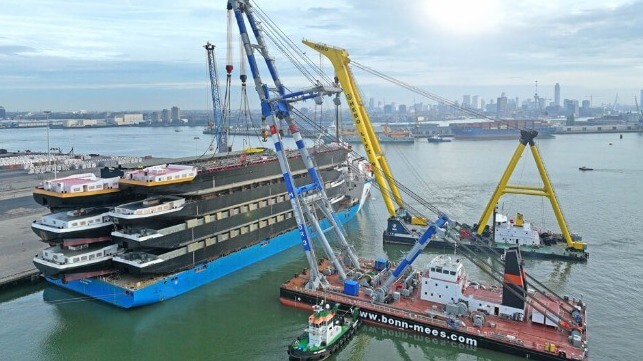 Maritime heavy lift specialists HEBO Maritiem Service and Bonn & Mees Floating Sheerlegs reported that they are joining forces in a merger. It is a further sign of the consolidation that has been going on in the sector over the past few years.
The two Dutch companies highlight that combined they have over experience of 170 years. Together, HEBO and Bonn & Mees said they will form the most versatile maritime service provider in Europe. Management reports that the companies will be better equipped to offer reliable and sustainable solutions that meet the ever-changing needs of their clients. The partnership ensures an efficient and specialized focus in areas such as heavy lifting, specialized transport, salvage operations, and emergency response.
The merger they said will lay the foundation for sustainable growth, expanded services, and strengthened market position. They look to use their combined strength to expand their market position in sectors ranging from heavy lift to jacking & skidding as well as specialized transports such as wind farm and offshore equipment.
Hebo had been moving to grow its operations before this merger, At the beginning of 2023, the company reported the purchase of 15 flat-top barges from Boskalis with a combined length of more than 3,200 feet. The barges vary in length from 165 to 275 feet. The company said they are suitable for both inland waterways and seagoing vessels and brought their fleet of barges to over 50. Other parts of the company's fleet include the 2,200-tonne capacity heavy lift sheerlegs vessel HEBO Lift 10. That vessel was acquired from Boskalis in 2022 with management reporting the acquisition would permit growth in the infrastructure, salvage, breakbulk and wind sectors, and allow HEBO to enter new markets including decommissioning and transport & installation.
Bonn & Mees, which was founded in 1887 as a shipyard entered the floating crane business in the 1930s. Today they operate from Rotterdam with a fleet of three seagoing sheerlegs, with lifting capacities ranging from 400 to 1,800 tons.
Just over two years ago, Dutch heavy lift transport company Jumbo Shipping and German breakbulk and project cargo specialist SAL Heavy Lift formed a joint venture between their operations to respond to market trends. Around the same time, Germany's Rhenus Maritime Services also announced that it is strengthening its project and heavy-lift cargo business by taking over 60 percent of the shares in the ship and project consignment manager Arkon Shipping & Projects.
The sector has seen new growth opportunities with the continuing build-out of the offshore wind energy industry. The companies have been working to strengthen their transport capabilities in response to the growing volumes of heavy and large equipment being transported for the construction of offshore wind farms in addition to their traditional transition of a range of large constructions and elements such as small boats.