Dredging for Coal Port in Great Barrier Reef Approved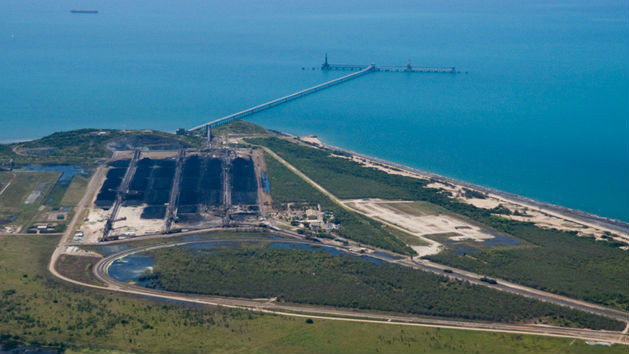 On Tuesday, Australia approved a controversial expansion of the Abbot Point coal terminal, which environmentalists fear will damage the Great Barrier Reef but supporters say is needed to protect the sector from decline.
The expansion work will require dredging 1.1 million cubic meters of seabed near the Great Barrier Reef Marine Park, which will then be disposed of on land to make way for what will become one of the world's biggest export terminals for coal.
The terminal is on the edge of the reef, about 19 kilometers from the closest coral.
Federal Environment Minister Greg Hunt issued the approval only after reengineering reduced dredging by 97 percent from the original proposal, according to Hunt's spokesman.
"All dredge material will be placed onshore on existing industrial land," the spokesman said.
The work still requires approval from the Queensland state government, which is awaiting assurances that a giant coal mine owned by Indian conglomerate Adani Enterprises will be developed.
Adani welcomed the announcement with a statement saying:
"The expansion of Abbot Point, the lifeblood of Bowen, is key to Adani's plans to deliver 10,000 direct and indirect jobs and $22 billion in taxes and royalties to Queensland.

"Adani welcomed and willingly supported the move to an onshore disposal of dredged material last year, when a site not previously available became a viable option for proximate, well-managed disposal of dredged material.
"This is the third time a well-managed, strictly regulated, science and evidence-based expansion approval has been the subject of a state and federal government approval process since 2010.
"The approval given by Minister Hunt to the Queensland Government mirrors the approvals given to Adani's mine at Carmichael and North Galilee Basin Rail projects, in that they reflect the strictest, world's best practice environmental safeguards.
"Adani, working with the Queensland Government, is confident that the strict conditions placed on this project will enable the jobs and economic benefits that will flow from the expansion of this vital port for exports from our state to proceed."
Adani had previously blamed opposition to its mine for delays in moving the $7 billion project to the construction phase.
The region around the port is home to dolphins and dugongs, which rely on the seagrass there for food. It is also a habitat for turtles and giant manta rays and is in the path of migrating humpback whales.
"This approval to dredge is not only irresponsible for the reef, it's illogical and it's unnecessary," said Greenpeace campaigner, Shani Tager. "Adani hasn't got the $16 billion [for the Carmichael mine] - no-one's lending it to them and coal prices are tanking. Even the International Energy Agency (IEA) is questioning the project."
However, coal production is rising in Australia even as many developed countries view the fuel as a sunset business.
Australia's coal exports are forecast to rise to 200 million tons this year, second only to Indonesia and twice that of Russia, government data shows.
Advocates for more coal mining in Australia warn India and other foreign buyers will turn to Indonesia and South Africa if coal resources aren't exploited, eliminating economic benefits to Australia and doing nothing to cut emissions.
Adani has argued that its Australian mine is necessary if Indian Prime Minister Narendra Modi is to keep his promise to bring electricity to hundreds of millions of people living off the grid.
A heritage committee of UNESCO, the United Nations cultural agency, said earlier this year the reef's outlook was poor due to threats like pollution and climate change, but it stopped short of listing it as "in danger".