DP World to Develop Mega-Container Terminal in Northwest India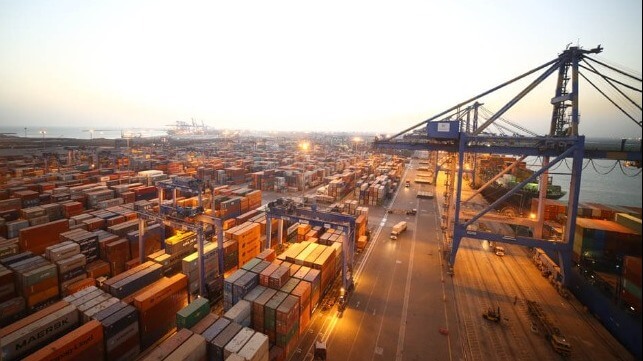 DP World won a major concession to develop and operate a new mega-container terminal in northwest India which will be part of the strategic investment required to support India's ambitions to increase global trade. The new facility when completed will be able to handle ultra-large container vessels (ULCVs) and add a capacity for handling 2.19 million TEU in an emerging industrial region with a strategic position close to the Gulf of Oman.
The contract was awarded by the Deendayal Port Authority, located in northwest India, to DP World on a Build-Operate-Transfer (BOT) basis. The project involves the construction of a mega-container terminal at Tuna-Tekra through a Public Private Partnership. Once complete, the terminal will include a 3,600-foot berth and will be capable of handling vessels carrying more than 18,000 TEUs.
The lack of modern container facilities able to handle the emerging classes of ultra-large container vessels is viewed as a major challenge to India's efforts to expand its role in global trade. The major carriers are increasing the size of vessels building new ULCVs for the Asian routes replacing the smaller vessels but also requiring massive port complexes capable of servicing the vessels. Carriers such as Evergreen have already been bypassing India with their new 24,000 TEU vessels as analysts pointed out the need for investment in India's ports.
"India represents a significant landscape for opportunity. As the value chain becomes more integrated, significant growth opportunities exist across the entire Indian ports and logistics space," said Sultan Ahmed Bin Sulayem, Group Chairman and CEO of DP World, marking the contract signing for the new terminal. "With the development of the Tuna-Tekra mega-container terminal in Gujarat, DP World will be well placed to capture these opportunities, further connecting Northern, Western, and Central India with global trade and driving value for all our stakeholders."
Once complete, the companies said that the terminal will help unlock future container traffic growth in India, catering to exports and imports from the region, reducing logistics costs, and enhancing efficiencies across supply chains. It is in keeping with the Indian Government's Vision 2047, which aims to quadruple the country's port handling capacity.
The new terminal will be constructed in an area of approximately 63 Hectares. The terminal will be well connected to the interior parts of India through the network of roads, highways, railways, and dedicated freight corridors. It will also double the regions capacity to handle containers. Since 2017, J M Baxi has operated the Kandla International Container Terminal in the region. While the terminal has grown to handle two million TEU it's berth is 1,800 feet with a maximum depth of 46 feet limiting is capacity for ILCVs.
The Tuna-Tekra terminal will also increase DP World's total capacity in India by a third rising from the current 6 million TEU to a total capacity of 8.19 million TEU. DP World operates five marine terminals, two in Mumbai and one each in Mundra, Cochin, and Chennai, India. This is supported by seven multimodal inland terminals connected to DP World's rail network, cold storage facilities, and container freight stations.