Defying Governor, BOEM Moves Ahead With Offshore Wind Areas off Oregon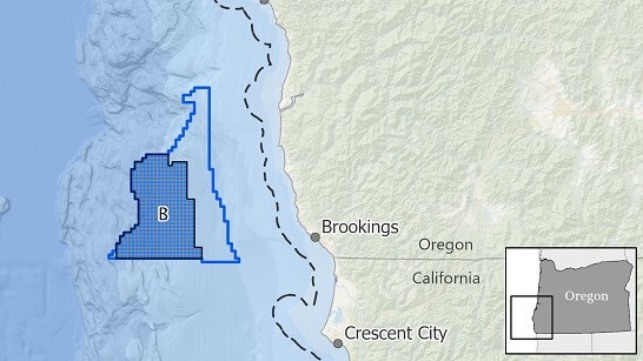 The Department of the Interior has identified its first two Wind Energy Areas off the coast of Oregon, the latest frontier in an expanding offshore wind permitting campaign.
The Biden administration hopes to foster installation of 30 gigawatts of offshore wind energy by 2030, a goal that appears increasingly remote given supply chain cost hikes and a growing number of abandoned or canceled power purchase agreements on the U.S. East Coast. Any future projects will be even costlier to develop on the West Coast, where platform-based floating wind farms and new power transmission infrastructure will be required.
According to the Bureau of Ocean Energy Management (BOEM), Oregon has big opportunities for offshore wind deployment. The draft WEAs announced Tuesday would allow development of up to 2.6 GW of wind power.
The areas cover about 220,000 acres off Brookings and Coos Bay, and they are far smaller than the "call areas" previously outlined for expressions of industry interest.
Offshore wind development has not received universal acclaim from Oregon stakeholders. Oregon Governor Tina Kotek - a Democrat and a longtime proponent of zero-emissions power - has called for a "pause" on offshore wind to give more time for consultation with tribes, fishermen and coastal communities. Both of Oregon's senators and two Congressmen joined her call.
The federally-designated Pacific Fishery Management Council has also called on BOEM to rescind its offshore wind "call areas" and start the development process over again. Fundamentally, the fishery council objects to BOEM's approach to site selection. "BOEM's decision making regarding areas for wind energy development are made prior to considering the needs of communities, fish populations, important habitats, and impacts to the ecosystem," the federally-designated fishery management agency said in a statement. The council wants to see BOEM do more work with spatial planning data to avoid conflicts and to exclude all offshore banks and seamounts from consideration.
"The BOEM process has created significant friction with coastal communities, the fishing industry, and Tribal governments. Many valid questions and concerns remain about floating offshore wind. These must be addressed transparently before we can support proceeding further towards any substantial development decisions on the Oregon coast," the council said in a statement in June.
BOEM has decided not to heed local calls to pause or restart the process, but it has agreed to hold a series of meetings during the 60-day public comment period.
"We look forward to working with the state to help us finalize offshore areas that have strong resource potential and the fewest environmental and user conflicts," said BOEM Director Elizabeth Klein in a statement.