Decade-Old "Newbuild" Drillship Finally Finds Work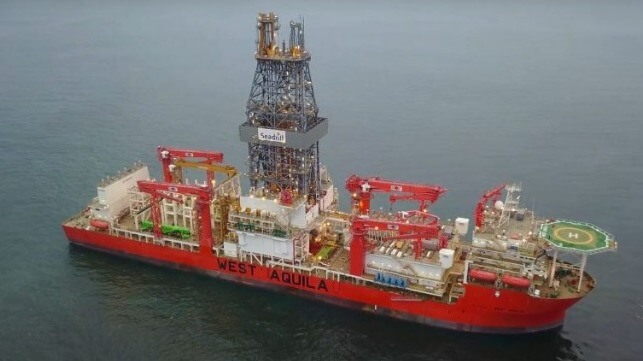 Three times a charm, an ultra-deepwater drillship that was first ordered in 2013 and is on its third owner, has finally received its first contract. Transocean reported the contract for the vessel now known as Deepwater Aquila as the ship prepares to finally be delivered by its builder.
During the drilling boom of the 2000s, Seadrill ordered two new ships in 2013 that were hailed as the next evolution of deepwater drilling. The ships were to be built by Daewoo Shipbuilding & Marine Engineering (DSME) in South Korea due for delivery in 2016. The contract price was reported to be more than $800 million.
As the drilling market collapsed and Seadrill's financial situation deteriorated, they reached an agreement with DSME to defer the deliveries. Then known as West Aquila, her delivery was delayed till the second quarter of 2018, and her sister ship West Libra, until the first quarter of 2019. However, with the market not rebounding, Seadrill as part of its financial restructuring announced in March 2018 that it had canceled the contract.
DSME however rebounded and announced in May 2018 that the ships were being sold to Northern Drilling for a revised price of $296 million per ship. Move forward to 2021, and John Fredriksen's new company announced in succession it was walking away from each of the contracts to buy one of the drillships. They blamed DSME citing delays in the delivery and beginning a still ongoing litigation.
Transocean came on the scene in November 2022 reporting they had struck a deal with the financially troubled shipyard to buy the troublesome drillship Aquila that had now been sitting idle waiting for a market to emerge. Transocean reported they would pay approximately $200 million and take delivery of the ship in the third quarter of 2023.
The acquisition was led by Perestroika and funds managed by Lime Rock Management in a newly formed joint venture called Liquila Ventures. Transocean made a $15 million noncontrolling investment in Liquila Ventures and received the exclusive right to market and manage the operations of the rig.
Transocean now reports that they have secured a three-year award for the "newbuild" ultra-deepwater drillship Deepwater Aquila with a "national oil company" for work offshore Brazil. The contract is expected to commence in the third quarter of 2024 and represents approximately $486 million in firm backlog, excluding a mobilization fee of approximately 90 times the contract dayrate. They are also reporting that they have agreed to acquire the outstanding interests in Liquila Ventures, taking ownership of Deepwater Aquila which is expected to be delivered from the shipyard in October 2023.
The ship is described as a seventh-generation dual-activity drillship. It is a high specification, 1400 short-ton hookload ultra-deepwater drillship and will have a large deck space, high load capacities, and will be dual-stack ready. It becomes the eighth ultra-deepwater drillship owned and operated by Transocean which highlights that there are only a total of 12 of these ships in the world.