Crane Vessel Catches Fire off Ciudad del Carmen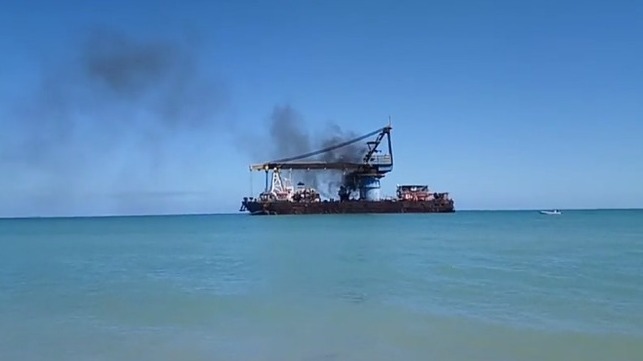 A crane vessel belonging to offshore services firm Oceanografia has caught fire off Ciudad del Carmen, Mexico. No injuries have been reported.
The vessel, the Titan II, has been stranded near shore since 2016, and she has been vandalized in the past. Five were arrested early this year for suspected looting. Local authorities have not ruled out an act of vandalism or an accident during illegal scavenging as the cause of the fire.
Oceanografia went bankrupt in 2014 amidst accusations of large-scale fraud: Citibank alleged that the firm created false invoices to secure hundreds of millions of dollars in improper loans from Citi's Mexican subsidiary, Banamex. Oceanografia's CEO was jailed pending trial in 2014 for his connection with the alleged scam, and was released in April 2017. His firm emerged from bankruptcy this February.
Most of Oceanografia's vessels were idled as the case wound its way through court, and several were anchored off Ciudad del Carmen. Local residents and environmental organizations have expressed concerns about the possibility of marine pollution from the abandoned vessels.