Containership Departs Odesa Testing Ukraine's Humanitarian Corridor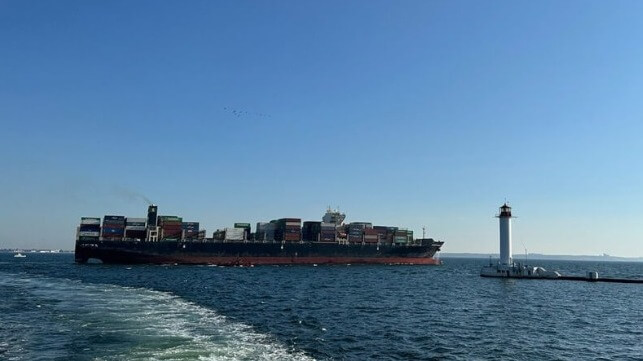 The first ship departed Odesa today, August 16, in a test of Ukraine's efforts to establish a new humanitarian corridor on the Black Sea. Shipping industry officials said that they hoped other ships would follow despite Russia's announcement that merchant ships would be treated as hostile vessels and the reports that a Russian warship shot at and later boarded an inbound Turkish-owned vessel last weekend.
The Joseph Shulte, registered in Hong Kong and reported to be owned by a Chinese bank and Germany's Schulte Group, had been in Odesa since February 23, 2022, the day before the invasion of Ukraine began. The 111,000 dwt containership had previously been operated by MSC. The vessel is 10 years old with a capacity of 9,400 TEU.
Ukraine's vice minister Alexander Kubrakov posted a message and pictures on social media announcing the departure of the first merchant ship using what he termed a "temporary corridor." The vessel's AIS signal shows it moving at 15 knots along the coast with reports saying it is heading toward the Romanian coast before proceeding to Ambarli, Turkey where it is expected to arrive tomorrow.
The vessel is reported to be carrying 2,114 containers with a total of 30,000 tons of cargo including foodstuffs.
Ukraine reportedly began registering ships last weekend to use the route which it said had been submitted to the United Nations and International Maritime Organization. When they announced the plan, they said the ships would have to accept the risk, including the potential of sea mines or possible intervention by Russia.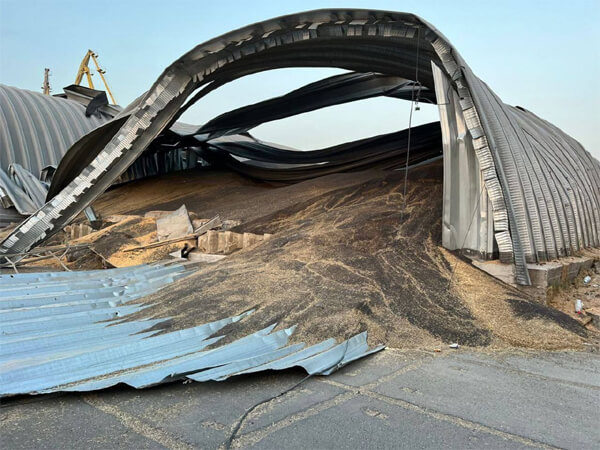 Damage to grain storage in Reni (Oleksiy Goncharenko/Twitter)
Russian officials have not specifically responded to the announcement of the corridor. Overnight, however, Russian drones again attacked Ukraine's two Danube ports for at least the third time since ending the grain deal. Ukraine said the latest attack destroyed and damaged granaries and warehouses. They released pictures of the reported damage showing grain and sunflower seeds scattered and blackened in Reni only about 10 miles from the Romanian border. Ukraine said 13 other drones targeting Odesa and Mykolaiv had been intercepted.
"The corridor will be primarily used to evacuate ships that were in the Ukrainian ports of Chornomorsk, Odesa, and Pivdennyi," wrote Kubrakov on social media. He cited speculation and attempted "provocations in the Black Sea to influence the movement of ships to Ukrainian ports," by Russia.
It is currently estimated that there are as many as 60 ships that were caught in Ukraine's ports 17 months ago at the time of the invasion. The Black Sea grain agreement only provided safe passage for bulkers transporting the grain and foodstuffs although there had been several previous attempts to release ships caught in the ports. Turkey earlier this year said it had an agreement with Russia as part of the last grain extension that would permit other Turkish-owned ships to depart Ukraine.