Construction of World's Largest Diamond Mining Vessel Underway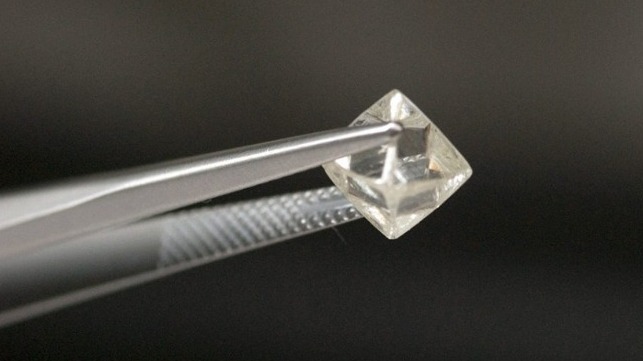 The De Beers Group has confirmed that construction of the world's largest diamond mining vessel has commenced.
Local media outlet New Era highlighting the announcement, said the vessel will be used exclusively for operations off Namibia's coast when it commences operation in 2021. Debmarine Namibia, a joint venture between the government of Namibia and De Beers, first announced a feasibility study for the offshore vessel last year.
Construction of the vessel is expected to cost in the region of N$2 billion ($173 million) excluding around N$5 billion ($432 million) of mission equipment, including crawler-mounted dredge technology, that will be retrofitted afterwards.
Making the announcement last year, Debmarine said various built options were considered and Norway's Kleven Verft, was chosen after the yard's successful construction of the deepwater diamond exploration and sampling vessel, Nujoma that was launched into Debmarine service in July 2017.
Debmarine Namibia became operation in 2002 and mines in the off-shore mining license area off the southern coast of Namibia. The company operates five diamond mining vessels, namely Debmar Atlantic, Debmar Pacific, !Gariep, Grand Banks and Mafuta. Two mining technologies are deployed, the airlift-drill and the crawler mining technology. The mining vessels mine diamonds off the ocean floor using advanced drill technology and supported with sophisticated tracking, positioning and surveying equipment.
The new vessel will be the longest vessel to-date to be built in the Kleven shipyard. At 176 meters (577 feet), she will be slightly larger than the current largest vessel, Mafuta (174 meters, 571 feet). Similar to the Nujoma, the new vessel will be a Marin Teknikk design – MT 6027 vessel. She will also have dynamic positioning.
Namibia has been strengthening its offshore diamond mining capacity, as land-based diamonds are expected to run out within a decade. Namibia has more than 3,700 square miles of diamond concession at sea on the south-west coast which is expected to yield millions of carats of marine gemstones for the next five decades.
In January this year, De Beers announced it is progressing development of the first blockchain technology initiative to span the diamond value chain and provide a single, tamper-proof and permanent digital record for every diamond registered on the platform. The initiative will underpin confidence in diamonds and the diamond industry by ensuring that all registered diamonds are conflict-free and natural, while also enhancing efficiency across the sector.
Following the success of an initial proof of concept trial that resulted in a working prototype, a pilot is now underway involving a small number of participants. A full system launch is expected later this year.