CNO: U.S. Navy Warships Will Start Transmitting AIS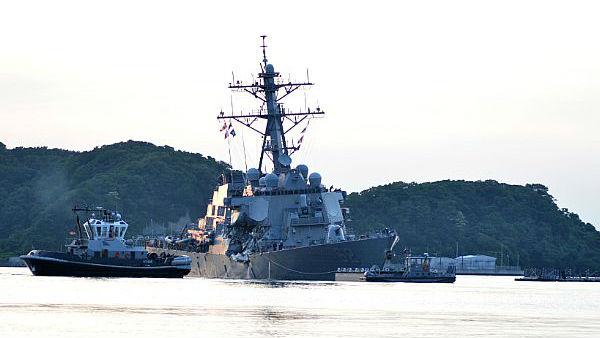 Following scrutiny over two deadly collisions earlier this year, the U.S. Navy will increase manning levels on certain vessels and will require its warships to transmit AIS signals when transiting congested waters.
AIS tracking data collected at the time of the USS John S. McCain and USS Fitzgerald collisions suggest that neither vessel was transmitting, consistent with the Navy's general practice.
"We had, I think, a distorted perception of operational security that we kept that system [turned off] on our warships," said Chief of Naval Operatons John Richardson in testimony before the Senate Armed Services Committee yesterday. "One of the immediate actions following these incidents – particularly in heavily trafficked areas – we're just going to turn it on."
The decision resolves one of the most common criticisms of the Navy's navigation procedures. The other leading areas of concern – hours of rest and training – are also under review, Richardson said. The Government Accountability Office has found that Navy officers' workloads often exceed STCW limits for hours of work and rest, which require 77 hours off duty in any seven-day period – the equivalent of a 91-hour maximum work week. In testimony, Richardson said that he "will not deny" that some sailors are putting in 100 hours per week or more – especially aboard Arleigh Burke-class destroyers like the McCain and Fitzgerald.
To fix the problem, Richardson suggested that the Navy would increase manning above existing levels. "We're starting to respond to that by supplementing the crews," he said. The Burke-class vessels already deploy with a large numbers of sailors: according to the GAO, the 9,000 dwt destroyers are designed to operate with a crew of more than 300, about 20 times the number required for a merchant vessel of equivalent size.
Separately, the Navy expects that it will have to ask Congress for a special appropriation to cover the cost of repairs to the two damaged destroyers. According to Secretary of the Navy Richard V. Spencer, the service estimates that the refit will cost an additional $600 million over and above the FY2018 budget.