CMA CGM Unites Containerships and MacAndrews Brands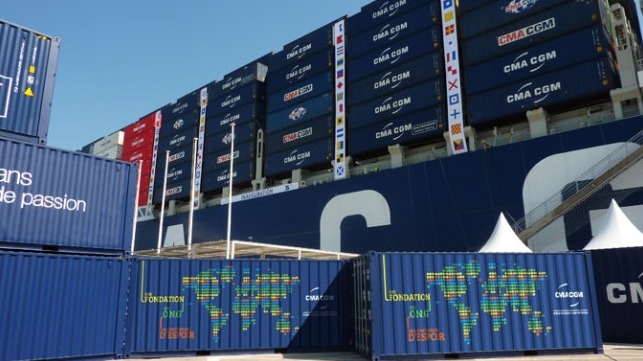 CMA CGM's Containerships and MacAndrews brands will move forward under the Containerships brand as of April 1.
By joining the forces of the two intra-European multimodal transport firms, the CMA CGM Group says it will unlock synergies and develop an Intra-European leading brand that combines unique maritime and inland solutions.
Acquired by the CMA CGM Group in 2018, Containerships is a specialist in intra-Europe for logistics services related to containerized cargo. Containerships offers logistics solutions for all modes of transportation (ships, trucks, trains and barges) and is present in the Baltic markets, Russia, Northern Europe, North Africa and Turkey.
Containerships took delivery last December of the Containerships Nord, the first vessel powered with LNG to join the Group's fleet. Also equipped with a fleet of LNG-powered trucks, Containerships is therefore able to offer LNG at each step of the transportation process. This capacity will be further boosted in the coming months with the delivery of new 1,400-TEU LNG-powered container ships, and from 2020 with the integration in the CMA CGM fleet of nine 22,000 TEU vessels propelled by LNG.
MacAndrews, which joined the CMA CGM Group in 2002 and which merged with OPDR in 2018, also offers a complete range of rail, road and maritime transport services and is a specialist of container transport on Intra-European routes. It mainly connects North and Central Europe with the Iberian Peninsula, the Canary Islands and Morocco.

Ocean Alliance extended until 2027
Rodolphe Saadé, Chairman and Chief Executive Officer of the CMA CGM Group, has signed an extension of the Ocean Alliance cooperation until 2027. The signing ceremony took place in Hainan, China, with the executives of COSCO Shipping, Evergreen and OOCL.
Launched in 2017 for an initial period of five years with an option for a five-year renewal, Ocean Alliance is the world's largest operational agreement between shipping companies. The confirmation of the 10-year duration of this partnership only two years after its launch reflects the trust and high-quality working relationship established between CMA CGM and its partners within Ocean Alliance, said the company in a statement.
Saadé also signed an agreement for the Ocean Alliance Day 3 Product that will start in April 2019. The product involves around 330 container ships, 111 of which will be operated by the CMA CGM Group, an estimated carrying capacity of around 3.8 million TEUs, 19 Transpacific services, seven services between Asia and Europe, four services between Asia and the Mediterranean, two Transatlantic services, four services between Asia and the Middle East and two Asia-Red Sea services.