Chinese Yards Step Further into Cruise Shipbuilding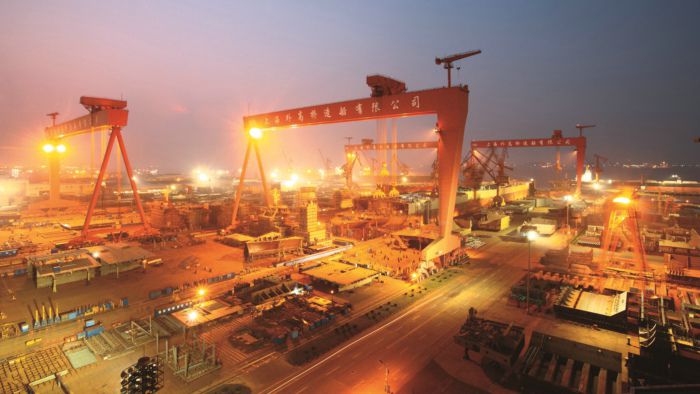 China State Shipbuilding Corporation (CSSC) is preparing to set up a major supply chain hub for cruise ship construction in Baoshan, an industrial area on the outskirts of Shanghai. The development authority for the district recently told Reuters that it will commit about $740 million to develop the new supply hub.
The investment is significant, as the highly-specialized supply chain required for cruise ship construction is a major barrier to entry for the sector; several non-European yards have tried and failed to build cruise ships profitably, in part because of the difficulty in finding high-quality suppliers.
CSSC, leading cruise shipbuilder Fincantieri and Baoshan signed an agreement for the new supply chain site in May, a part of the Fincantieri / Carnival / CSSC deal for the construction of two Vista-class cruise ships. The $1.5 billion contract includes options for an additional four vessels. Fincantieri reportedly has hundreds of employees on site at CSSC's Shanghai Waigaoqiao Shipyard advising on the construction, and the Export Import Bank of China has agreed to guarantee a $38 million payment for access to Fincantieri's technology.
Inside sources told Reuters that the Chinese government had pressured Carnival to build in China; in turn, these sources allege, Carnival asked Fincantieri to partner with CSSC. Fincantieri denied this account.
The deal was not Fincantieri's first in Shanghai. In early 2016, the firm signed a technical assistance agreement with the Shanghai-based repair yard Huarun Dadong Dockyard (HRDD) for service and conversion of cruise ships. The agreement gives Fncantieri a regional service center in the growing Chinese cruise market.
However, the Italian shipbuilder may have created political challenges for its European ventures by doing more business in China. The French government recently withdrew an agreement to let Fincantieri buy the cruise/naval shipyard STX France, calling for a 50/50 ownership structure instead. Paris' concerns are related to a desire to retain national control, but the yard's unions also worried that Fincantieri's technology transfers to a competitor in China would undercut STX France's business. In addition, CSSC is China's top defense shipbuilder, and Paris was reportedly concerned at the possibility that a foreign power might access STX France's naval technology.
CSSC, Fincantieri and Carnival are not the only parties interested in Chinese cruise ships. Reports suggest that many Chinese shipbuilders – whose orderbooks have been hard-hit by the downturn in merchant shipbuilding – have been offering steep discounts to cruise operators in hopes of new orders. Cruise ship lessor SunStone Ships made headlines in March when it signed for as many as ten expedition-size vessels from China Merchants Industry Holdings. SunStone did not specify the price, but it did name the suppliers: the design, equipment package and construction supervision will be provided by Ulstein Group, and cabins and interiors will be by Mäkinen.