Chinese Warships "Challenge" Australian Frigates in S. China Sea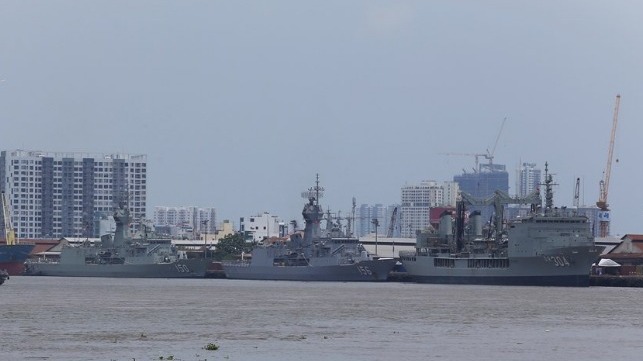 On April 15, three Australian naval vessels had a "robust" encounter with Chinese forces in the South China Sea, according to Australian officials.
According to local reports, the frigates HMAS Anzac and HMAS Toowoomba, accompanied by the oiler HMAS Success, had an interaction with Chinese warships that officials described as professional but firm in nature. The encounter occurred during the Australian ships' transit from Subic Bay and Kota Kinabalu to Ho Chi Minh City, Vietnam, where they are currently in port for a good-will visit.
At the time of the encounter, the People's Liberation Army (Navy) was conducting a 50-ship exercise in the South China Sea, its largest drill ever. Chinese president Xi Jinping attended the exercise several days before the reported run-in.
Defense industry minister Christopher Pyne told ABC Australia that the reports of an encounter were overblown. "I think 'confrontation' is somewhat of a tabloid-style description of what goes on in the South China Sea very regularly," he said. Similarly, the Chinese ministry of defense said that the incident was a normal interaction. "China's ships used professional language to communicate with the Australian side . . . It is professional and safe," the ministry said in a statement.
Australian Prime Minister Malcolm Turnbull declined to comment on the specifics of the report. "All I can say to you is that Australia asserts and practices its right to freedom of navigation throughout the world's ocean, including the South China Sea," he told reporters on the sidelines of a meeting in London.
In recent months, China has moved to strengthen its presence on disputed islands in the Spratly Islands, an archipelago off Palawan with multiple overlapping sovereignty claims. Despite longstanding pledges that its island bases are not intended for military purposes, China has recently asserted its right to deploy armed forces to the region, and military aircraft have been spotted on at least one of China's facilities in the Spratly chain.
China claims the vast majority of the South China Sea, including areas within the EEZ boundaries of the Philippines, Vietnam, Malaysia, Taiwan and other nations. The Permanent Court of Arbitration in the Hague has declared that these claims are broadly invalid, but China does not recognize this ruling.