Chinese Port Operator at Haifa Will Mean Questions for U.S. Navy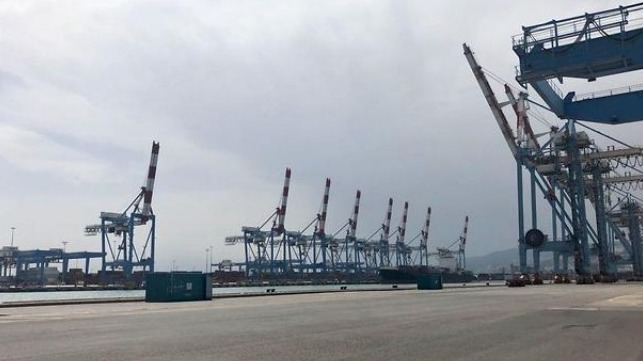 The Shanghai International Port Group is expected to take management of a new private seaport at Haifa, Israel in 2021, bringing a Chinese presence to one of the region's strategic harbors. The move has been met with fierce resistance from Israeli longshoremen, and according to a new report, it could also have implications for the U.S. Navy's operations in the Eastern Mediterranean.
According to comments recently reported by Newsweek, ex-chief of naval operations Adm. Gary Roughead (USN, ret'd) believes that a Chinese-run port in Haifa would mean that U.S. Navy ships could not regularly call at the Haifa naval base, Israel's largest naval installation. He suggested that the likelihood of Chinese intelligence activity would present an enhanced risk to operational security.
Given its location and the warm relations between the American and Israeli militaries, the Haifa naval base hosts American warships with regularity. Last year, the carrier USS George W. Bush called Haifa. The amphib USS Iwo Jima called in March 2018, and the destroyer USS Donald Cook arrived for a brief visit in June.
However, with SIPG taking control at the commercial side of the port, this might not be possible in future years.
"The Chinese port operators will be able to monitor closely U.S. ship movements, be aware of maintenance activity and could have access to equipment moving to and from repair sites and interact freely with our crews over protracted periods," Adm. Roughead reportedly said at a conference at the University of Haifa last month. "Significantly, the information systems and new infrastructure integral to the ports and the likelihood of information and electronic surveillance systems jeopardize U.S. information and cybersecurity."
SIPG operates the world's busiest container port, the Port of Shanghai, along with other large terminals in China. While the firm is publicly listed, the majority of its shares are held by the government of Shanghai. It won a 25-year concession for Haifa's new Bay Terminal in 2015, and will take over operations in 2021.
In other overseas ports with new Chinese operators - like Hambantota in Sri Lanka, Gwadar in Pakistan and Doraleh Multipurpose Port in Djibouti - regional security interests have expressed concern over the potential for the dual-purpose use of the port concession. A deepwater port can be just as useful for naval vessels as for merchant ships, and military planners note that these seaport contracts could be used to expand the reach of China's navy.