China Reshapes Military Spending for S. China Sea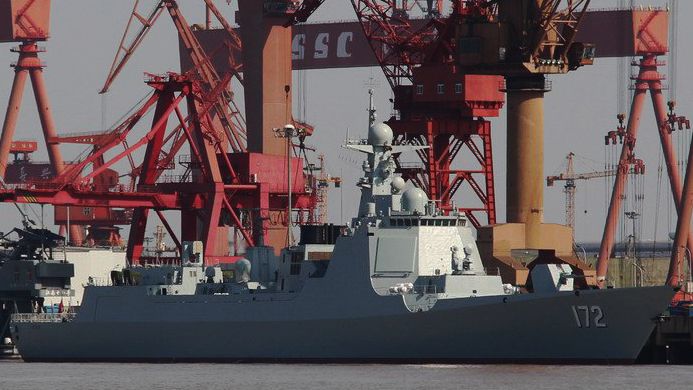 China will likely announce another large rise in defence spending next month, as the ruling Communist Party seeks to assuage the military's unhappiness at sweeping reforms and as worries over the South China Sea and Taiwan weigh on Beijing.
Military spending last year was budgeted to jump by 10.1 percent, outpacing slowing, single-digit GDP growth, and another double-digit rise looks set to be announced at the annual meeting of China's largely rubber-stamp parliament in March.
One source with ties to the military who meets regularly with senior officers told Reuters a 30 percent increase in spending this year had been mooted in military circles, though the actual rise was unlikely to be that dramatic.
"The party has got to show the troop cuts don't mean the military is being ignored or shunted aside," the source said, speaking on condition of anonymity for fear of the consequences of talking to a foreign reporter.
President Xi Jinping, who has rattled nerves around the region with an increasingly muscular attitude to territorial disputes in the East and South China Seas, is now seeking to drag the People's Liberation Army into the modern age, cutting 300,000 jobs and revamping the Cold War-era command structure.
But the reforms have run into opposition from soldiers and officers worried about job security.
"Xi has to keep them on side as there's so much unhappiness and uncertainty in the ranks," the source said.
China's Defence Ministry declined to comment, when asked about the defence budget, on what may factor into any rise in spending this year.
The military's official People's Liberation Army Daily gave some insight into the disquiet in the ranks in a commentary last month, saying some soldiers were "lost in hesitation" at the prospect of reform and uncertain of its benefits.
Another PLA Daily commentary this month told soldiers not to "think too much" about whether they would keep their jobs, and concentrate instead on ensuring their loyalty to the Party.
"Where are the 300,000 going to go? There's no information. Are the SOEs supposed to employ them?" said one senior Beijing-based Western diplomat, who follows military politics, referring to state-owned enterprises.
At $136.4 billion, China's budgeted defence spending last year was around a quarter that of the United States, but its military is modernising rapidly after a nearly unbroken two-decade run of annual double-digit rises in its budget.
Giving further impetus to a continuation of that run, Beijing is also feeling public pressure to show it can protect its claims to the South China Sea after the United States began conducting "freedom of navigation" operations near islands where China has been carrying out controversial reclamation work.
Jia Qingguo, a professor of international relations at Peking University who has advised the government on diplomatic matters, said there was no doubt another substantial rise in defence spending was on the cards.
"Conducting military exercises, carrying out reforms, boosting military readiness all cost money," he said.
"The navy in particular is definitely more important than it has ever been in the past. The activities in the South China Sea will certainly have an impact on military spending."
After the latest U.S. manoeuvres last month, the Global Times, an influential and stridently nationalist tabloid, said it showed the importance of boosting defence spending.
"This reminds us that we must retain a high growth rate of military spending in spite of the economic downward trend," it said in an editorial.
"China needs to accelerate its speed of building up strategic strike capabilities, including a nuclear second-strike capability."
The victory in Taiwan's presidential election last month of Tsai Ing-wen, of the independence-leaning Democratic Progressive Party, gives yet more ammunition to China's hawks.
China considers self-ruled Taiwan a wayward province, to be brought under its control by force if necessary. Tsai says she wants to maintain peace with China.
"If Taiwan independence elements back us into a corner, we'll have no choice than to push unification by force," retired Major-General Luo Yuan, a prominent Chinese military figure, wrote in the Global Times after the election.