China Plans New Naval Base in Pakistan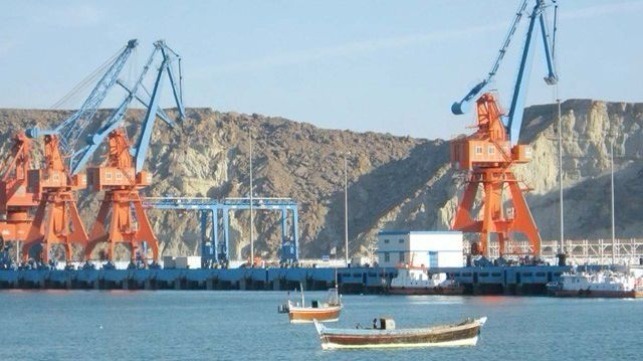 On Friday, a Chinese defense analyst and a source close to the People's Liberation Army confirmed that China's navy plans to set up a base near the Chinese-built port of Gwadar, Pakistan. It would be China's second overseas base after a recently-built facility in Djibouti.
"China needs to set up another base in Gwadar for its warships because Gwadar is now a civilian port," said analyst Zhou Chenming, speaking to the South China Morning Post. "The Chinese naval flotilla patrolling in the Gulf of Aden and other warships escorting Chinese oil tankers in the Indian Ocean need a naval base for maintenance as well as logistical supplies because they can't buy much of what they need in Pakistan."
The news appears to confirm a recent report from a retired American officer regarding negotiations for a new Chinese naval base at Jiwani, a small fishing port on a peninsula west of Gwadar. According to a recent column by Col. Lawrence Sellin (U.S. Army Reserve, ret'd), the agreement would involve upgrades to the port and to a nearby airfield, and would require the creation of a security zone.
When Pakistani officials first proposed the Chinese port project at Gwadar in 2011, they described it explicitly as a forward naval base for Chinese warships. "We have asked our Chinese brothers to please build a naval base at Gwadar," defense minister Chaudhary Ahmed Mukhtar told the FT at the time. However, in response to the recent reports of similar Chinese plans, Pakistan's government dismissed the news as "propaganda" intended to interfere with Chinese-Pakistani development projects.
"There is no proposal of building any Chinese military base near Gwadar. This is all propaganda against the development of the China-Pakistan Economic Corridor (CPEC) and strengthening of relations between Pakistan and China," Foreign Office spokesman Mohammad Faisal said.
China's Foreign Ministry has also dismissed previous reports of Chinese ambitions to build a base in Pakistan. Last year, spokesperson Hua Chunying called rumors of a potential naval base at Gwadar "irresponsible remarks" and "hearsay."
China backs Pakistan on anti-terrorism policy
Last week, the Trump administration blocked a $1 billion military assistance package for Islamabad over the continued presence of terrorists on Pakistani soil and Islamabad's allegedly insufficient efforts to remove them. The U.S. State Department asserts that Taliban and Haqqani network fighters are using western Pakistan as a base for their attacks on government forces in Afghanisan, and American officials complain that Pakistan is doing too little to combat them.
China's Foreign Ministry immediately defended Pakistan against these allegations. "We have said many times that Pakistan has put forth great effort and made great sacrifices in combating terrorism. It has made a prominent contribution to global anti-terror efforts, and the international community should fully recognize this," said spokesperson Geng Shuang at a regular press briefing. "China stands ready to further deepen cooperation with Pakistan in various fields to bring greater benefits to the two peoples."
Analysts expect that as Geng suggests, Pakistan is likely to deepen its ties with China in the wake of the suspension of American aid. China is already providing tens of billions of dollars in assistance for Pakistani infrastructure projects and has worked closely with Islamabad's defense establishment for years. However, cautions columnist Shamil Shams, the absence of American support could come at a price: China will now have greater leverage to set the terms for its development and defense projects within Pakistan.