China Merchants Adds to Car Carrier Boom with Methanol Fueled Ships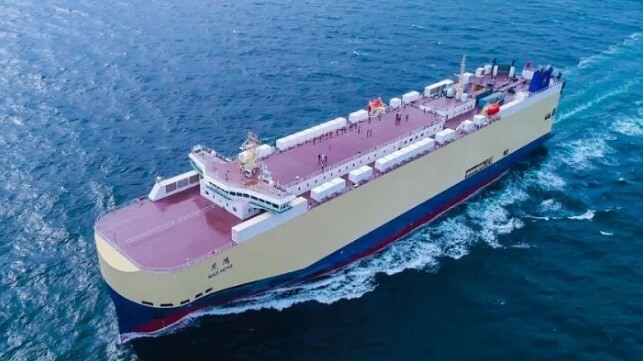 The vehicle transport sector is one of the hottest in shipbuilding as the carriers rush to create more capacity and update aging fleets endangered by the new emissions regulations. The surge in shipbuilding orders began in 2022 breaking a drought in the sector and continuing to build momentum into 2023.
China Merchants Energy Transport (CMET) signed contracts yesterday which call for an investment of up to $384 million for two ships plus four options which could add transportation capacity for 54,600 units by 2026. As of January 2023, CMET reported it had 22 river and ocean ro-ro ships of various types, with an annual transportation capacity of more than one million vehicles.
Explaining the decision to proceed with the order the company said in a stock exchange filing that it believes the Chinese shipowners have "broad prospects" in the international ro-ro shipping market citing the demand for China's new energy vehicles and other automobile exports. The board said it is acting both to realize opportunities to expand the company's domestic and foreign trade ro-ro transport business as well as to improve its sustainable profitability.
A firm order was placed with the group's shipbuilding company, China Merchants Industry, for two 9,300 ceu vessels to be operated with methanol fuel. The contract is not to exceed $192 million with delivery in the second half of 2025 and the first half of 2026. In addition, the company is also optioning for additional vessels of a different dual-fuel methanol design each with a capacity of 9,000 ceu. The price is not to exceed $96 million per ship, also with delivery in 2026 if the options are exercised.
CMET's decision to proceed with the order follows other majors in the sector including Höegh Autoliners, Gram Car Carriers, Grimaldi, SAIC Anji Logistics, UECC, and COSCO. Over the past five years, there had been a limited number of orders in the sector with the average age of the fleets approaching and surpassing 20 years. Clarkson Research reported that 90 pure car and truck carriers (PCTC) were ordered in 2022 up from just 38 in 2021.
Driving the increase in orders is the limited capacity growth in the past few years as well as strong growth in car sales. The China Association of Automobile Manufacturers, for example, reports that car exports reached 3.1 million units up 54 percent in 2022, Car exports from China surpassed two million units for the first time in 2021.
The order surge is continuing in 2023 with Clarkson Research recently reporting 17 new orders for PCTC so far this year. They calculated that the new orders alone represent 510,000 dwt and 152,000 ceu, pushing the average capacity for each ship above 8,900 spots.
The sector has been moving to adopt new fuel technologies. LNG has been the most popular option with CMET at the leading edge moving to methanol. Short-sea European transport company UECC in late 2021 and 2022 introduced the first three newbuild multi-fuel LNG battery hybrid PCTCs each with a capacity of 11,300 ceu. Others have also been preparing designs that would be methanol or ammonia ready.
Despite the rapid growth in orders for larger and greener vessels, car carriers remain concerned that the industry lacks capacity. Several major manufacturers are also moving to order vessels. China's BYD Auto has ordered two 7,000 ceu vessels and is rumored to be considering more vessels while others such as Cherry are also reported to be considering launching ships to meet their growing export opportunities.