China Expects Over Six Percent Economic Growth This Year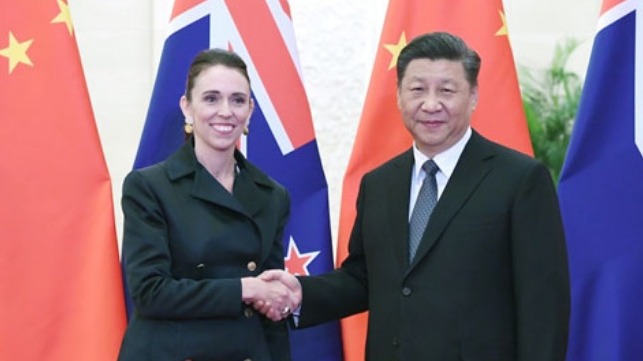 China's economy will grow by an estimated 6.3 percent this year, according to a report by the Asian Development Bank.
The growth is in line with the Chinese government's target and is anticipated to continue next year, with growth of 6.1 percent predicted for 2020.
This is a drop from 6.8 percent in 2017 and 6.6 percent in 2018.
The report predicts that recent government steps to improve investment opportunities for foreigners will boost inflows of capital into the country.
The news comes as China releases statistics related to its Belt and Road Initiative. Five years on, the initiative has been joined by over 60 nations including New Zealand, Austria, Kazakhstan and South Africa.
By the end of last year, China had signed 170 inter-governmental cooperation documents with 122 nations and 29 international organizations. Many countries and regions have actively dovetailed the initiative with their own development programs such as the E.U.'s Junker Investment Plan, the Russia-led Eurasian Economic Union, Mongolia's Prairie Road and Kazakhstan's Nurly Zhol (Bright Path).
Infrastructure developments along the Belt and Road have boosted ports, railways, highways, electricity, aviation and communications. China's shipping routes connect its ports with over 200 nations and 600 major ports.
Total trade between China and other Belt and Road countries amounted to $6.47 trillion in the 2013-2018 period. More than 80 overseas economic and trade cooperation zones were built, and more than 244,000 jobs created for locals. During the period, China's outbound direct investment in other Belt and Road countries exceeded $80 billion.
Countries along the Belt and Road accounted for over 60 percent of all members of the Asian Infrastructure Investment Bank, a multilateral development bank headquartered in Beijing, as of December 2018.
The Silk Road Fund, to which China contributed $40 billion initially and an additional $15 billion later to support the Belt and Road projects, has signed contracts to provide financing for 19 projects.
By the end of April 2018, 1,023 pairs of sister cities had been formed between China and 61 countries along the Belt and Road, accounting for over 40 percent of the total number of sister cities China had with other countries.
In 2017, tourists made around 60 million trips between China and other Belt and Road countries, with the number of tourists from and to China rising 2.6 times and 2.3 times from 2012, respectively, making it a new source of growth for global tourism.