China Eliminates Shipyard "White List"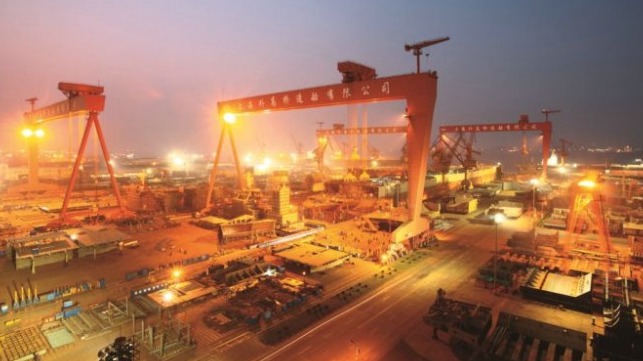 China's powerful Ministry of Industry and Information Technology has eliminated its "white list" of favored shipyards, effective immediately.
"In order to implement the spirit of the Party Central Committee and the State Council on transforming government functions and deepening reform . . . the Ministry decided not to directly manage the work related to the norms and conditions of the shipbuilding industry," said MIIT in a brief statement Tuesday.
China's government created the list in 2014, when shipbuilding orders were falling and the industry was entering a severe downturn. Its intention was to concentrate shipowners' orders at the strongest, most viable facilities and reinforce these "top" yards with government support. Yards had to have one future order, one recent delivery and one ship under construction to make the list, and shipbuilders which had experienced a recent bankruptcy or a suspension of production were not eligible.
Inclusion on the list gave yards export tax rebates, plus better access to credit at state-owned banks. By 2016, the yards on the "white list" were responsible for about 90 percent of all Chinese vessel deliveries - and hundreds of privately-owned Chinese shipyards folded.
CSSC takes aim at "high-end" vessels
The news comes as China's biggest state-owned shipbuilders are moving into new territory. China State Shipbuilding Corporation has recently signed agreements with two state-owned banks to facilitate the export sale of "high-end" vessels, with bank backing for credit guarantees, financing and financial consulting. According to China's State Administration for Science, Technology, and Industry for National Defense, the move is intended to "help Chinese shipbuilding enterprises improve their international competitiveness."
CSSC has also signed a new agreement with DNV GL for the development of a 270,000 cubic meter LNG carrier, which would be slightly larger than the biggest vessels in the class today. CSSC's Hudong-Zhonghua yard, which signed the agreement, is presently the only shipbuilder in China capable of delivering large LNG carriers.
LNG carriers offer better profit margins for shipbuilders, and they are a specialty of the "Big Three" South Korean shipyards. South Korea's long-troubled yards have recently made a comeback on a rising tide of LNG carrier orders, and a multi-billion-dollar deal for up to 60 vessels for the government of Qatar is currently in negotiations.