Malaysia and Singapore De-Escalate Port Dispute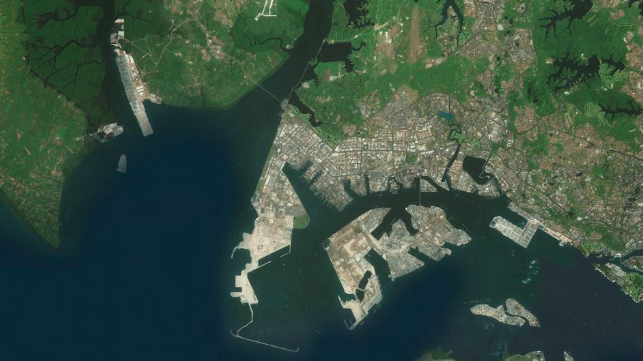 Malaysia and Singapore have agreed to a diplomatic ceasefire in their dispute over the national boundary between the ports of Johor Baru and Tuas. On March 14, they announced that they would temporarily set aside their competing claims and use the previously accepted boundary as the working demarcation line.
Under the agreement, government vessels will not anchor in the disputed area, ending the quasi-occupation of the zone by Malaysian maritime agency ships. The presence of these vessels became a particular concern last month, when the Malaysian buoy tender Polaris was struck by the Greek bulker Piraeus. The nature of the accident highlighted the risks for both sides, as the merchant ship was transiting the area on a short trip between the two ports involved in the dispute.
Navigation in the area will now be governed by the ordinary rules of UNCLOS, and the disputants will sit down to begin negotiations on a long-term agreement for a maritime border. A joint committee will oversee the de-escalation, and its aim will be to return the situation to its previous state within one month.
"Under this agreement, the Malaysian ships currently anchored in the area will leave, the port limits will revert to those before 25 October 2018, and we will continue to patrol the area in accordance with our laws and in accordance with the UNCLOS," said Singaporean foreign minister Vivian Balakrishnan in a statement.
In late October, Malaysia declared that it was expanding the maritime boundaries of the port of Johor Baru (Tanjung Pelepas) towards the east, near to the water's edge at Singapore's Tuas port complex. Singapore immediately objected, asserting that the new limits encroached on Singaporean waters. In late November, the Malaysian Maritime Enforcement Agency (MMEA) deployed its vessels to patrol the waters between Johor and Tuas, prompting complaints from Singapore about "intrusions" into Singapore-claimed areas. "Singapore has protested the unauthorised movements of, and purported assertions of sovereignty by these vessels, which are inconsistent with international law," Singapore's Ministry of Transport claimed on December 4.
Malaysian Prime Minister Mahathir Mohamad asserted that his government's newly-enlarged port limits for Johor Baru did not infringe on Singapore's maritime boundaries. Singapore, for its part, claimed that its "territorial waters do extend westward" of the current port limits around Tuas, and it described the new Malaysian claim as a "serious violation of Singapore's sovereignty and international law."