CCNI Arauco Salvage Response Completed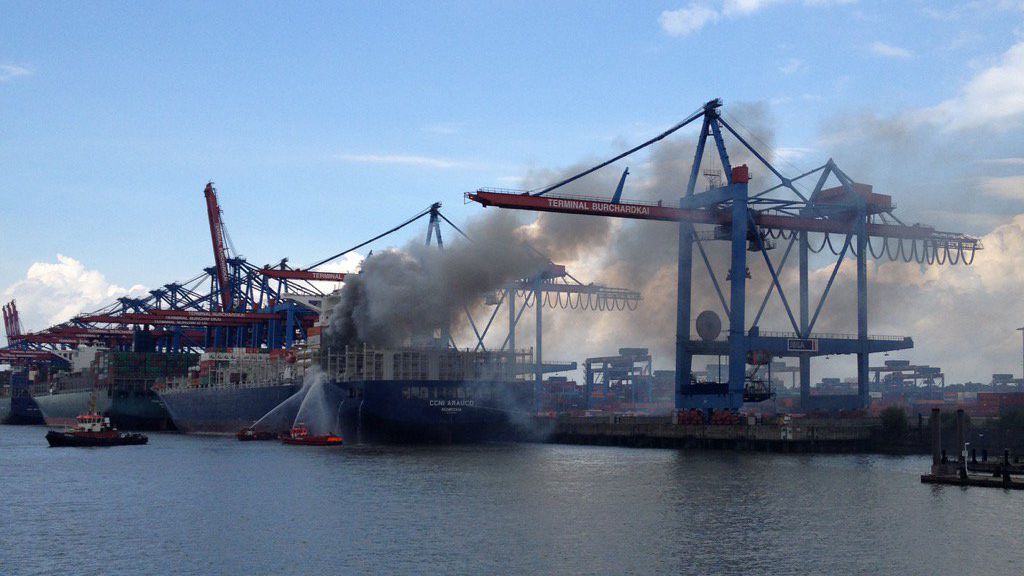 On October 6, Ardent Global reported that emergency response and remediation work on the burned container ship CCNI Arauco was complete. The vessel has been returned to her owners for shipyard repairs.
A fire broke out in the aft container hold of the Arauco on September 1. Ardent emergency response crews worked with local firefighters to extinguish the fire, a long process which drew dozens of firefighters from nearby regions and required 12,000 gallons of firefighting foam.
After the fire, other experts from Ardent worked with stakeholders on follow-on cleanup operations.
The aft hold was partly flooded during the emergency response, and the water in the hold was contaminated with firefighting foam. Modern firefighting foams are highly effective, but all contain perfluorocarbon compounds, some of which are under regulatory scrutiny for the risk of persistent environmental contamination.
An Ardent crew pumped the contaminated water into tankers to bring it to off-site disposal facilities.
Ardent also removed damaged containers from the hold, which were designated as dangerous waste and had to be handled with special treatment.
Ardent said that it worked under a salvage contract, which sped up negotiations and got crews on scene quickly.
"Minimizing an environmental impact has always been a priority for any operation for Ardent. We worked closely with Germany authorities to safely dispose the contaminated firefighting water and cargo out of the vessel," said Lars Tesmar, one of the salvage masters involved in the operation.
It was the second ship fire in a month for Ardent: the firm also handled the response to the Caribbean Fantasy fire and grounding off San Juan in August.
Ardent was formed last year through the merger of AP Moller-Maersk's Svitzer Salvage and Crowley's Titan Salvage. The merger intends to build not only scale and market share within the salvage business, but also to diversify into other service areas like project work, offshore decommissioning and hull husbandry.
The CCNI Arauco fire and other recent incidents have prompted the International Union of Marine Insurance (IUMI) to call for a review of shipboard marine firefighting equipment. Repeated CO2 discharges from the ship's own fixed firefighting system were not sufficient to halt the blaze in the Arauco's hold, and a major shore-based intervention was required instead.
Uwe-Peter Schieder, Vice Chairman of IUMI's Loss Prevention Committee, said that the situation might have been more dangerous under way.
"At sea, below-deck fires cannot be fought with water and so CO? is used instead to displace the oxygen and extinguish the fire. However, if the fire is burning within a container, the box will protect it from the CO? and so this method of fire-fighting is rarely successful. Currently there are no other methods of fighting a container ship fire below deck [at sea]," he warned.