"Catastrophic Damage" in Fighting at Ras Lanuf Terminal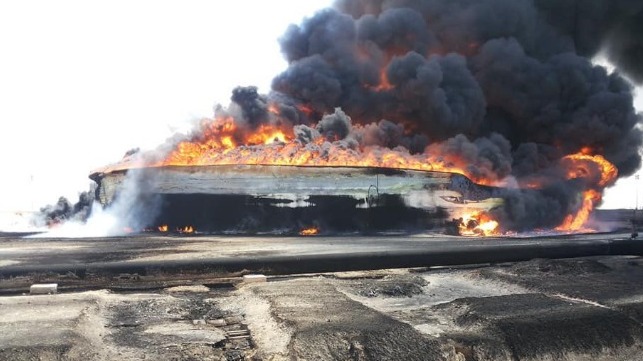 On Wednesday, Libya's National Oil Corporation reported "catastrophic damage" to two of the five tanks at the Ras Lanuf oil terminal due to fighting between militia groups.
The damage resulted in a 400,000-barrel reduction in crude oil storage capacity (from 950,000 barrels to 550,000 barrels), and the NOC said that Tank 2 is in danger of leaking and spreading the fire to the three surviving tanks. Ras Lanuf's terminal once had about a dozen tanks, but the long series of conflicts since the end of the Gaddafi era have destroyed all but a few.
The so-called Petroleum Facilities Guard militia attacked the terminals at Ras Lanuf and Es Sider on June 14. The group controlled the terminals until last year, when they were seized from by forces loyal to Gen. Khalifa Haftar, who controls the eastern half of Libya. The attack forced the NOC to evacuate employees, declare force majeure and suspend loadings, cutting Libya's daily oil export volume in half.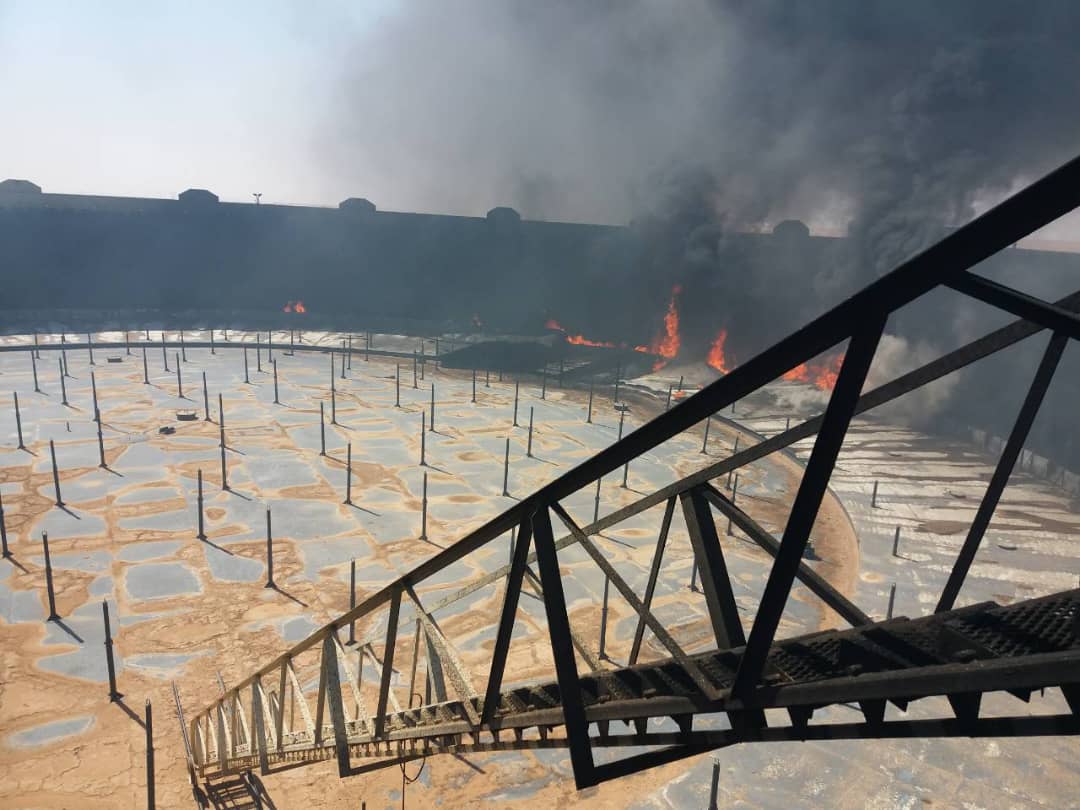 Tank roof burns, Ras Lanuf, June 16 (National Oil Company)
One employee was shot and injured during the attack on the terminal, and several more were robbed, NOC reported. All others were evacuated safely.
A large force from Haftar's Libyan National Army (LNA) retook Ras Lanuf on Thursday, and the LNA is preparing to move forward to retake Es Sider shortly. The Petroleum Facilities Guard retreated from Ras Lanuf, then reportedly regrouped and mounted a counterattack, inflicting a small number of casualties on LNA forces.
"Individuals or political groups who attempt to capture Libya's and NOC oil installations, blockade production, or attempt to make NOC a bargaining chip must be brought to justice. These are not patriotic acts, they are war crimes and should receive total condemnation from all Libyans and the international community," said NOC chairman Mustafa Sanalla in a statement.