Captain Sentenced to Twenty Years for Possession of Shark Fins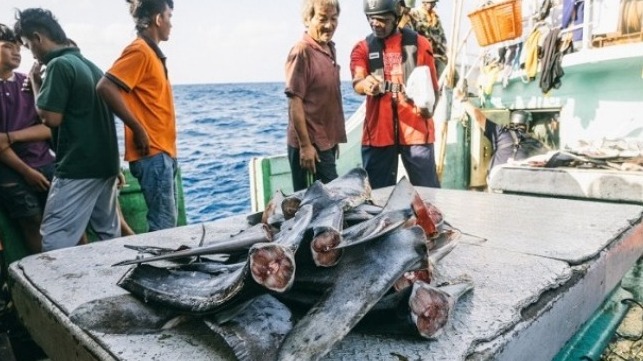 The owner and captain of the Malaysian-flagged fishing vessel Buah Naga 1 has pleaded guilty to the charge of Unlawful Possession of Shark Fins in a plea agreement with Tanzanian Prosecutors.
The vessel was arrested by Tanzanian law enforcement agents as part of Operation Jodari, a joint partnership between Sea Shepherd, Fish-i Africa and the government of Tanzania, to combat illegal, unreported and unregulated fishing.
When the Buah Naga 1 was first boarded on January 25, inspectors discovered that the vessel was carrying an illegal cargo of shark fins. An unlicensed firearm, a 9mm Beretta pistol, was found in the captain's cabin. Sea Shepherd asserts that, according to the Indonesian fishers working on board, the firearm was regularly used to threaten them to work. If no fish was caught, then the Indonesian crew would not be fed.
The Taiwanese captain, Han Ming Chuan, has been in custody since January after being charged with five crimes: Conspiracy to Commit Criminal Acts, Unlawful Possession of Shark Fins, Pollution of the Marine Environment, Unlawful Possession of a Firearm and Unlawful Possession of Ammunition. The vessel owner, Dato Seri Lee Yee Jiat, and agent, Abubakar Salum Hassan were subsequently arrested in June.
On December 4, the defendants reached a plea agreement with the Tanzanian Director of Public Prosecutions to avoid trial, pleading guilty to one of the five charges: Unlawful Possession of Shark Fins. The High Court of Tanzania sentenced the three men to 20 years imprisonment or a fine of one billion Tanzanian Shillings ($435,000). All three have been remanded to Lilungu Prison in Mtwara. If the fine is paid then the sentence will be suspended.
The High Court has handed over the seized shark fins to the Tanzanian Deep Sea Fishing Authority for destruction. The Bua Naga 1 remains in Mtwara.