Canadian ILWU Calls Strike Vote for West Coast Container Ports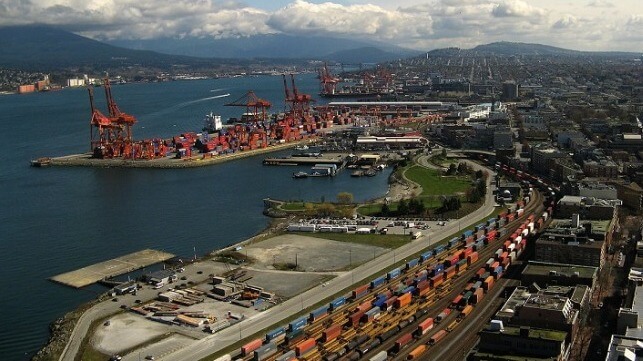 Canada's International Longshore and Warehouse Union yesterday, June 5, posted a notice that it will conduct a strike authorization vote among its members at the end of this week. The union which represents 7,200 dockworkers at the ports of Vancouver and Prince Rupert has been taking an aggressive stance in its contract negotiations having declared in March days before the previous five-year contract expired that they were already at an impasse with the BC Maritime Employers Association.
The threat of a strike that Canada's two gateway ports with Asia raise further concerns for shippers as the disruptions continue at the U.S. West Coast ports. The two Canadian ports, which experienced the same issues with backlogs and delays due to increased volumes during the pandemic, however, present an alternative route, especially for American shippers looking to bring cargo into the U.S. Midwest. There are direct rail links that can route cargo from the Canadian coast to Chicago and beyond. Similarly, Canadian shippers could look to the neighboring U.S. ports such as Seattle to provide an alternative route.
The ILWU scheduled a two-day vote on June 8 and 9 for the strike authorization but under the current process it would be barred from stating a strike before June 24 at the earliest. The negotiation conciliation process overseen by the Canadian federal government ended on May 30.
The process for the contract renewal began in November 2022 with the first filing under Canadian Labor Law to negotiate a new collective agreement. The previous contract took 18 months to negotiate between the ILWU and the 49 private-sector employers at the ports of Vancouver and Prince Rupert. The first meetings did not get underway till February 2023 and less than a month later the ILWU called for the conciliation process saying that there was no meaningful progress in the talks.
The federal government appointed two mediators to oversee the discussions which ran till the end of May. Under Canadian law, both sides are barred for an additional 21-day cooling-off period from taking any actions. After that, they would have to file a notice either for a strike or lockout and that requires at least 72-hour notice.
Like their American counterparts, the Canadian talks are centering on wages as well as issues related to automation. Both ports are seeking to expand their capacity with Vancouver also recently receiving a government consent decision in a long-running effort to build a new fourth terminal.
The employers and the union have declined to make specific comments on the issues, sticking points, or status of the negotiations. Estimates are that the West Coast ports handle nearly C$300 billion worth of cargo annually (US$225 billion) with analysts saying that a strike would have major implications for the economy both in British Columbia and at the federal level while disrupting the supply chain across Canada.