Businessman Charged Over Pangolin Shipment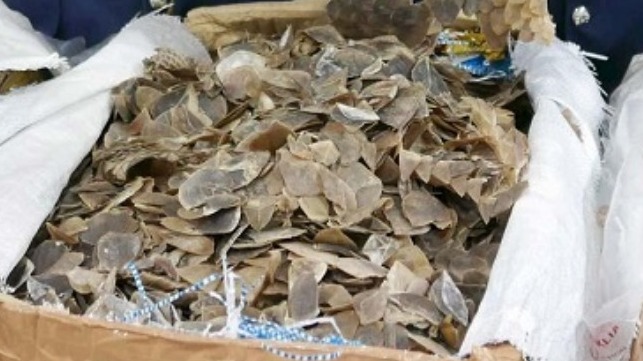 A local businessman faces up to $242 million in penalties if convicted of charges stemming from Malaysia's largest seizure of pangolin scales.
The case involves a seizure in July 2017 and is significant as it is the first trial linked to Malaysia's transit role in the global illicit pangolin trade. The case is also a milestone as it is Malaysia's first prosecution in connection with a large-scale pangolin seizure, although authorities here have stopped numerous illegal pangolin scale shipments in recent years.
The man was charged in the Kota Kinabalu Magistrate's Court earlier this week and is accused in connection with a shipment of 227 sacks of pangolin scales weighing over eight tons via Sepanggar Port. The consignment was valued by Customs at over $24 million.
If convicted, he could be liable to a fine of up to 20 times the value of the goods, or up to three years jail, or to both.
Between May and November 2017 alone, the Royal Malaysian Customs seized just over 15 tons of pangolin scales in nine seizures in the country. The largest of these seizures were made in Sabah and Sarawak, putting the role of ports and airports in the two East Malaysian states under the spotlight.
Pangolins are one of the most heavily trafficked mammals worldwide, with the African pangolins being targeted heavily since 2000 as Asian species dwindle in the wild from poaching pressure.
A recent analysis of seizures by TRAFFIC and the University of Adelaide found an average of 20 tons of pangolins and their parts had been trafficked internationally every year from 2010 to 2015.