Busan's Volumes May Drop, but DP World Raises Stake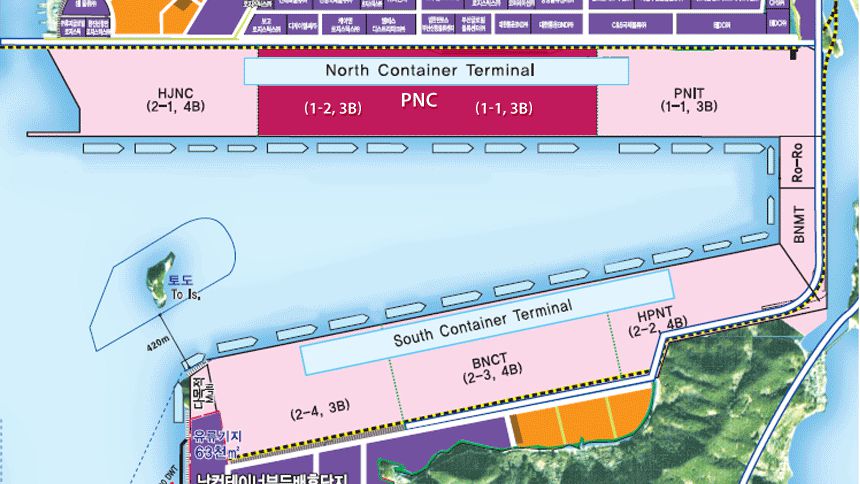 Leading terminal operator DP World announced Thursday that it has purchased Samsung Corporation's 23 percent share of Pusan Newport Company (PNC), raising its total stake to 66 percent. DP World said that the price paid for Samsung's share is "undisclosed."
PNC is the Port of Busan's largest container terminal, with about 5 million TEU of capacity. Busan handled about 20 million TEU overall last year, making it the largest container port in South Korea and the sixth largest in the world.
However, while the port's volumes have historically been healthy, the Korea Maritime Institute recently predicted that container traffic at Busan will drop in 2017. With the realignment of carrier alliances, the collapse of Hanjin Shipping and declining volumes of transshipment cargo to northern China, the port's overall volume will decrease by at least 3.5 percent next year, KMI said.
The estimate does not factor in any changes from the new agreement between 2M and Hyundai Merchant Marine. Should the 2M+H semi-alliance decide to alter existing routes, "the harbor volume of Busan Port will further drop," KMI noted.
DP World's purchase follows the announcement of a deal with Canadian pension fund Caisse de dépôt et placement du Québec (CDPQ) to invest $3.7 billion in port facilities worldwide. DP World has a controlling interest in the new joint venture, and it intends to target existing assets rather than greenfield developments. The arrangement gives CDPQ the option of co-investing, but in its announcement Thursday, DP World did not indicate whether CDPQ had contributed to the purchase of the PNC stake.
DP World says that it has performed well over the span of 2016 and is on track to hit its earnings targets. Its worldwide port volumes were up two percent in the first nine months over the same period last year, despite challenging market conditions. Circumstances have been especially difficult in economies dependent on natural resource extraction, said the group's chairman and CEO, Sultan Ahmed Bin Sulayem, but DP World's new developments in London, Rotterdam, Nhava Sheva and Yarimca have offset soft performance elsewhere.