Boy Falls Asleep in Container and Ends Up Traveling 1,600 NM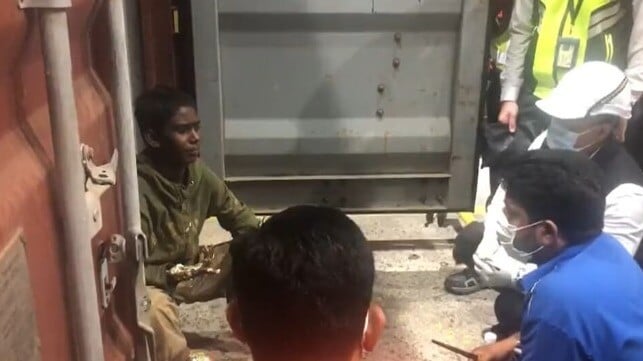 Malaysian officials are saying they believe there was no foul play involved when they discovered a young man locked inside a shipping container that had just arrived from Bangladesh. The young man was taken to a hospital after what they believe was a simple case of falling asleep in the wrong place at the wrong time.
A dockworker at Port Klang was surprised on Wednesday morning when he was inspecting boxes that were being offloaded from a containership that arrived from Bangladesh. He found a young man "in a weak state" in one of the containers. Images on social media show the young man emerging from the container, being interviewed by the authorities and sitting on the edge of the container being fed by the dockworkers, police and medical team. They gave him a change of clothes and cleaned him before taking him to the hopsital.
Seorang kanak-kanak lelaki warga Bangladesh ditemui dalam kontena yang baru tiba di Pelabuhan Barat (Westport), Pelabuhan Klang, malam semalam.

Kanak-kanak ini dipercayai terperangkap 6 hari dalam kontena sebelum diselamatkan. pic.twitter.com/XHQbu55rdG

— Jabatan Netizen Malaysia (@jnmalaysia) January 19, 2023
Initially, there had been fears that it might be a case of human smuggling but the police dismissed those concerns after they investigated the situation. The young man told the police that he and some of his friends had been playing in and around the containers in Chittagong, Bangladesh. He said he must have fallen asleep in the container and when he woke up, he found he was locked inside.
What the young man did not realize at that moment is that the empty box had been loaded aboard the Integra, a 21,500 dwt containership registered in the Marshall islands. The boy they believe spent five days locked in the box which was mixed in among other boxes with the ship's capability to transport 1,800 TEU. The 564-foot vessel departed Chittagong on January 12 and traveled some 1,600 nautical miles to Port Klang. The vessel arrived in Malaysia on January 15 and after a brief stay in the anchorage began unloading on January 17.
"We are not linking this to human trafficking because the initial investigation found that he entered the container, fell asleep and (was transported to) Malaysia," the police told the media. They said the boy was in stable condition and the matter was handed over to the Immigration Department to sort out the boy's documents.
Malaysia plans to send the boy home aboard the same vessel on which he arrived.